Instagram is a wondrous thing. Not only can you post photos of what you ate for lunch on the social network, but you can use it to host entire award shows.
If you are Drake, people will actually pay attention.
Drizzy spent his Sunday giving out "Hood Grammy" awards on his champagnepapi Instagram account. As far as we know his personal opinion was the only criteria for getting a (photo of a) gold statue. He ended up doling out awards in five categories.
Here are the winners:
Vocal Performance of the Year: Bobby Shmurda "Hot Nigga" Best Mixtape: "Two" by PartyNextDoor Best Latin Party Club Anthem: "Tuesday" by iLoveMakonnen Best All Around Turn Up: "U Guessed it" OG Maco ft Key Best Performance by a Group or Duo: Rae Sremmurd "No Flex Zone" & Rich Gang f/ Rich Homie Quan & Young Thug "Lifestyle"
We noticed Drake picked both a fellow Canadian (PartyNextDoor) and a song (Tuesday) that he guested on. Overall, do you agree with Drake's picks? And what should somebody get for winning a Hood Grammy?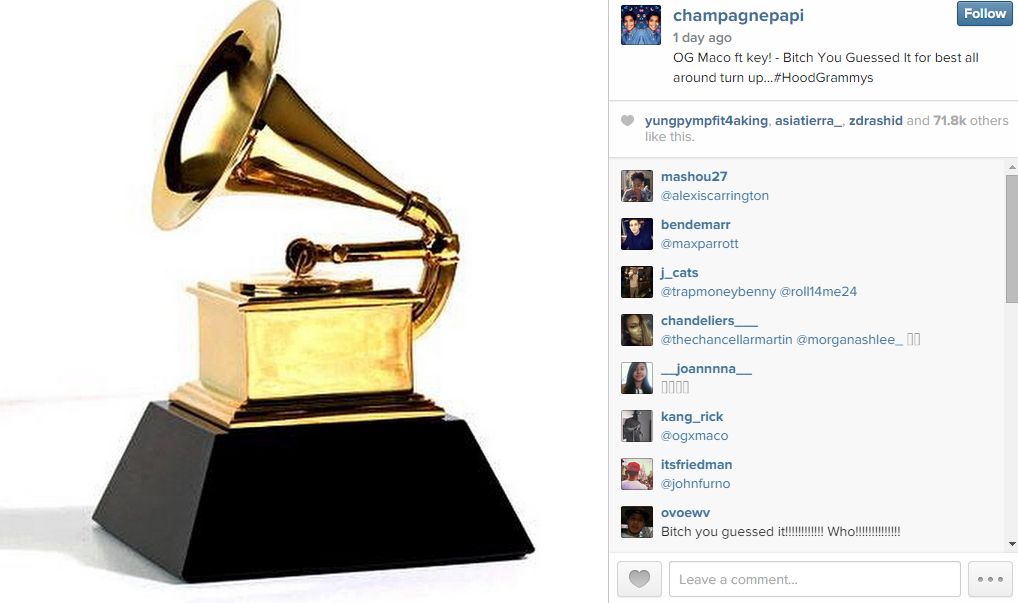 Discuss