Meek Mill has long been at Tekashi 6ix9ine's throat for being a rat. 6ix9ine is perfectly capable of defending himself, but Snich9's best buddy DJ Akademiks still explained why Meek, who's signed to JAY-Z and Roc Nation, is a huge hypocrite.
"If Meek was keeping things 100 it would be great. However, with most things, n*ggas are hypocrites ... Let me just give the quick loose association. Roc Nation is a company that is a label and management company in sports and in music for the likes Meek Mill, Rihanna, J. Cole and a ton of others. Roc Nation is owed by JAY-Z ... The current president of Roc Nation is a woman named Desiree Perez."
Then Ak went to explain that Perez was a DEA informant and a snitch at least on the level of 6ix9ine, providing the paperwork.

"I guess 6ix9ine's point is if you don't like rats, you wouldn't be working for a rat. You wouldn't be thanking a rap for getting you out of jail," Ak said.
Here's Meek thanking Perez for getting him out of jail.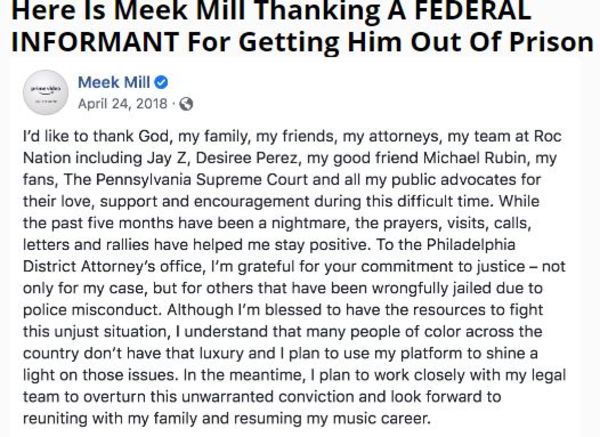 Is Meek a snitch hypocrite?
Discuss