Puff Daddy had said that he wouldn't commit to voting for Joe Biden until he adopted a "black agenda." Biden never did, but that doesn't matter anymore.
In a chat with Charlamagne, Diddy announced he is still endorsing the Biden-Harris ticket because the stakes are too high.
"If Trump gets elected, I really do believe in my heart there will be a race war," Diddy exclaimed. "This man is really trying to turn us against each other and put us in a situation. America messed up.

White men like Trump need to be banished. That way of thinking is real dangerous. This man literally threatened the lives of us and our families about going to vote," Diddy continued, bringing up the President shout out to the Proud Boys during the Presidential debate. "When you look at it, we don't have no choice. You can say what you want about Biden, I can't say I love the pick either, but hey — we gotta get him in office, then we gotta hold him accountable."
While Diddy will be voting for Biden this time around, he's hoping next time there will be a new political party on the ballot: Our Black Party.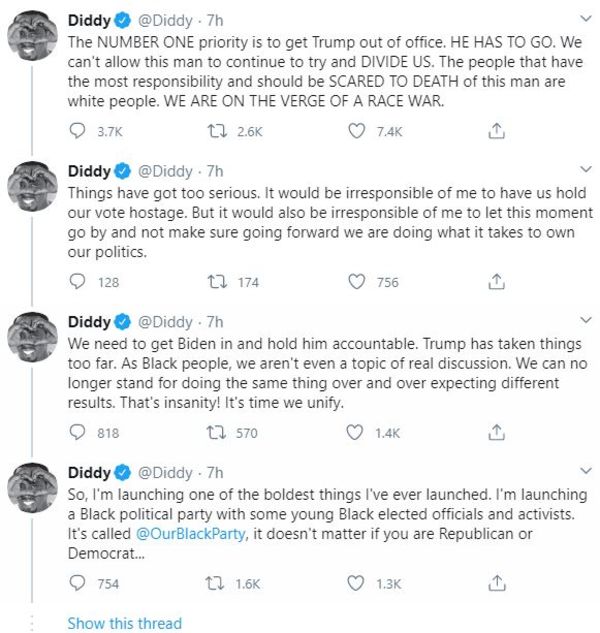 The mission is to create a platform to help advance a political agenda that addresses the needs of Black people. So, going forward we aren't in the same position we are in today. Visit https://t.co/SYOSCLTVqm for more info.

— Diddy (@Diddy) October 16, 2020
Who are you voting for?
Discuss