J. Cole's a famously private man, who secretly married his longtime girlfriend.
So when he became a dad, we certainly didn't expect him stream the birth on Snapchat, like one DJ Khaled recently did.
However his journey into fatherhood was revealed in an amusing way: He (or somebody) put the news in the iTunes' review of his yet to be released album 4 Your Eyez Only.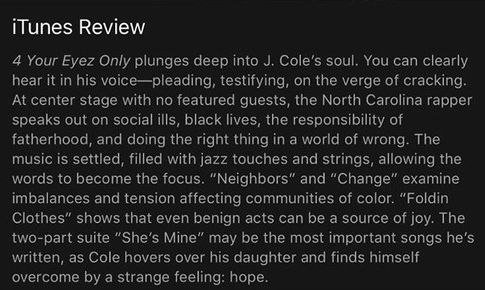 "The two-part suite 'She's Mine' may be the most important song he's written, as Cole hovers over his daughter & finds himself overcome by a strange feeling: hope," the review reads.
So congrats to Cole on his new daughter.

4 Your Eyez Only should drop sometime around midnight tonight.
Discuss