Eminem took a jab at Snoop Dogg on his new track 'Zeus'.
"As far as squashin' beef, I'm used to people knockin' me / But just not in my camp, I'm diplomatic 'cause I'm tryna be / Last thing I need is Snoop doggin' me / Man, dog, you was like a damn god to me / Man, not really, I had dog backwards," spit Em on" Zeus."
Upon further review, there's been tension between Dr. Dre's two proteges for years. Daz Dillinger -- who's Snoop's cousin, among other things --- may have had an inside look at that tension and he's here for it.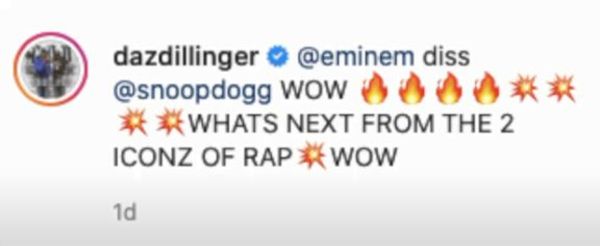 "@eminem diss @snoopdogg WOW. WHATS NEXT FROM THE 2 ICONZ OF RAP WOW," Daz typed in the comments, with appropriate emojis.
Should there be a "next" from Snoop and Shady?
Discuss