D.R.A.M. should be in a good place with his career. His record 'Cha Cha' took off this year, has over eight million YouTube views, and co-signs from artists like Beyonce. It sounds like the dream, but unfortunately he can't fully be happy. His problems stem from Drake being inspired by his song and putting out "Hotline Bling," which may soon be a #1 hit single on the Billboard charts.
When 'Hotline Bling' first debuted, the song was billed as "Cha Cha (Remix)" on Apple Music's platform. Soon, it turned into Drizzy's own record and it took over radio. At first, D.R.A.M. maintained a positive outlook on Drake being influenced by the VA sound he and his producer Gabe Niles had put together. But it's hard to ignore that 'Hotline Bling' has become a much bigger single than the record which inspired it.
After performing in Toronto, D.R.A.M. came back to Twitter and found everyone discussing the video for 'Hotline Bling.' This is where things started to feel different for him.  "Yeah, I feel I got jacked for my record...but I'm GOOD," he tweeted. Among his other tweets was one brushing off the situation and saying that 2016 was going to be his year. With a new EP dropping in a few days, we'll see if the momentum can keep going.
The whole situation is unfortunate, but Drake is at a point in his career where nothing can stop him. He almost effortlessly brushed off Meek Mill and the ghost-writing allegations. Whether you believe he stole from D.R.A.M. or not, this situation will be a distant memory to him soon.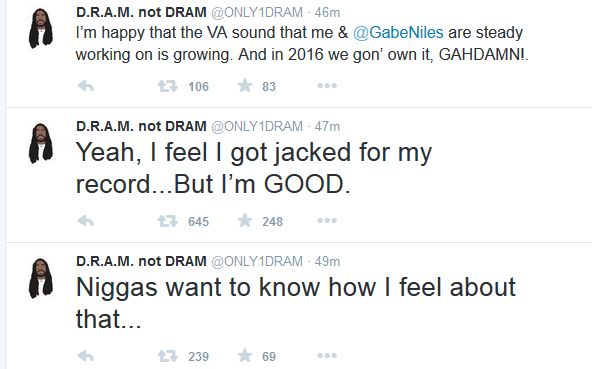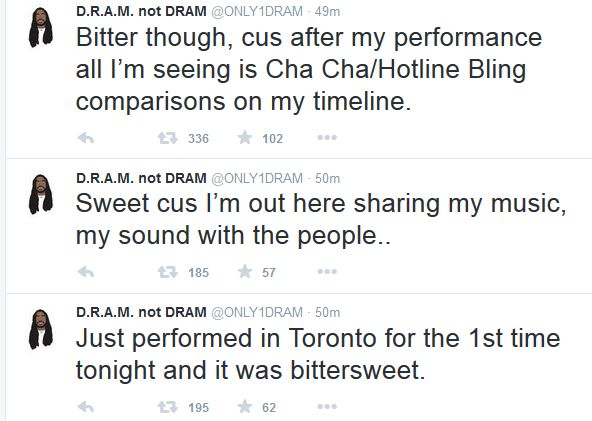 What do you think?
Discuss