Future hasn't spoken that much about Ciara since the breakup.
But he just dished on their personal and professional relationship twice. First, he said this in the mini-documentary Like I Never Left, which dropped yesterday.
"When [Ciara] was pregnant and she started working on [Jackie]... me and Mike WiLL, we finished the album before the album she just dropped-- and she ain't want us to be a part of it. I'm like, damn, we just came off a #1 and you go straight to Dr. Luke? And start working with him and go right back to the pop lane after you get a little steam. You shouldn't do that you should finish what we started, go back into that 'Body Party' lane and give the fans what they wanted, that's what they want from you. And let it cross over to pop, instead of trying to chase that crowd," Future said.
Additionally, in the mini-doc, Future talked about Ciara trying to rush him into a big wedding when he wasn't ready for such a high profile event.

Then, during an interview yesterday with Huffington Post, he addressed Ciara new boyfriend Russell Wilson's claim that he wasn't having premarital sex with the R&B star because of God.
"God told me something else. He didn't tell me to wait. I guarantee you that," Future said. "We prayed afterwards though. After we did it, we prayed — that's a true story. That's what really got me…. I was like, whoa, that shit's blowing me away. That's what sweeped me off my foot. Never had nobody pray after sex."
Either one or both of those statements got to Ciara, because she hit him back with the old Twitter subliminal:
Some Person Is So Dishonest and Ignorant That They Don't Deserve A Response.

— Ciara (@ciara) July 14, 2015
Furthermore, One's Main Focus Should Be On Being A Good Parent. — Ciara (@ciara) July 14, 2015
As for Future: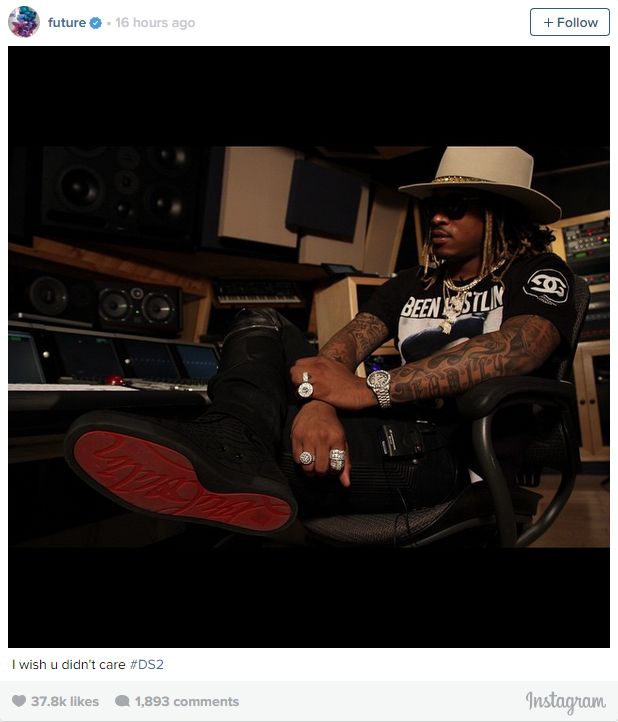 Discuss