Running back Chris Johnson, most recently of the New York Jets, was shot in the shoulder when a gunman opened fired on a Jeep he was a passenger in over the weekend.
One of his friends was killed in the incident, which took place when they were returning home from a JuicedUpKT concert in Orlando.
That's the stage name for Kenny Turner, a rapper and former high school teammate of Johnson.
Yesterday, Turner posted a photo on his Instagram that included Johnson and an unidentified man who's also suffered an injury. The caption reads "I HEARD YOU PUSSIES LOOKIN 4 me!!!!! WE GOT something in common....fuck YA!!!! #juice." Turner is the one of the middle, flipping the double bird.
According to TMZ, Johnson isn't cooperating with the investigation into the shooting, making Turner's message even more ominous.
Yesterday, Johnson also had gun charges against him dropped in what was an unrelated case. The 29-year old former 2000 yard rusher remains an unsigned free agent after running for 663 yards last season in New York.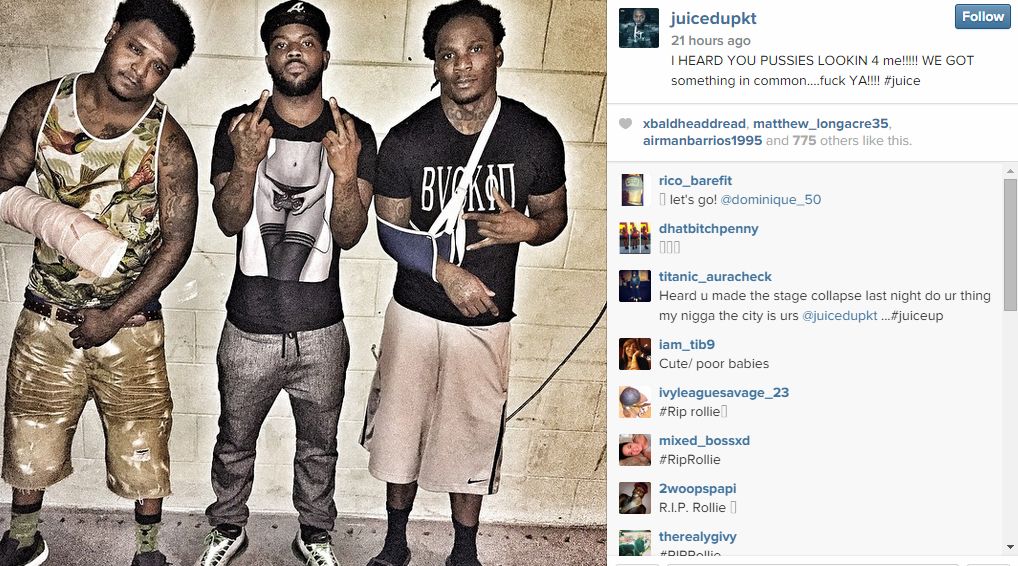 For the latest Hip Hop tracks and news, follow us on Twitter.
Discuss