Chris Brown and Karrueche Tran had a very public spat in a restaurant earlier this month.
The former lovebirds latest fight has also been in the public sphere -- this time on Instagram.
Breezy started it by lashing out at his ex for daring to speak his name.
"Honestly, it's so fucking pointless to keep doing interviews about me. Talk about your career…If there is no more relationship then u shouldn't be doing fucking interviews with people. I won't let get  (sic) the pleasure of prying into my personal life"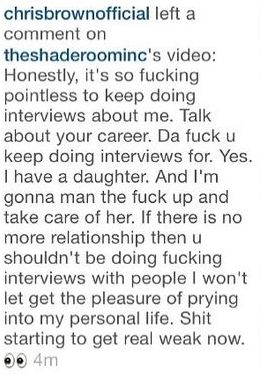 Karrueche responded with the old "what's good for the goose is good for the gender"defense.
This seemed to pacify the "konfuzed"R&B star, and he hit her back with this message:
Should they just get a room already, or does Karrueche really seem done with him?
Discuss