Chris Brown is back in the news for petty beef. Last week,  Breezy criticized Kehlani for putting her attempted suicide on social media. He also accused her of cheating on Kyrie Irving with PARTYNEXTDOOR, but that's been proven false by Kyrie himself.
Earlier this week, Tinashe spoke about Chris' Kehlani comments to KMEL, and why she unfollowed Brown on Twitter for making them:
"I felt like it was just so unnecessary. It's not a big deal to me. I don't think that follows on Twitter are a big deal.If I see him, I would love to speak to him. I would love if he would reach out. I have absolutely nothing against him. We're on good terms, as far as I knew."
Chris Brown didn't like what she had to say, so he took to Instagram to blast her.
I hope she talked about 'HER' career for most of this interview, " he wrote. "'WHOISHAE' TINASHAE. I hope they rehearsing for those performance (power 106 charity basketball game halftime show) give her credit though, 30 16 year old hobbit face ass. WE WANT MUSIC, WE WANT MUSIC, WE WANT MUSIC!! TEACH ME HOW TO JERK FACE ASS." Since then, the post was deleted but a screenshot can be found below.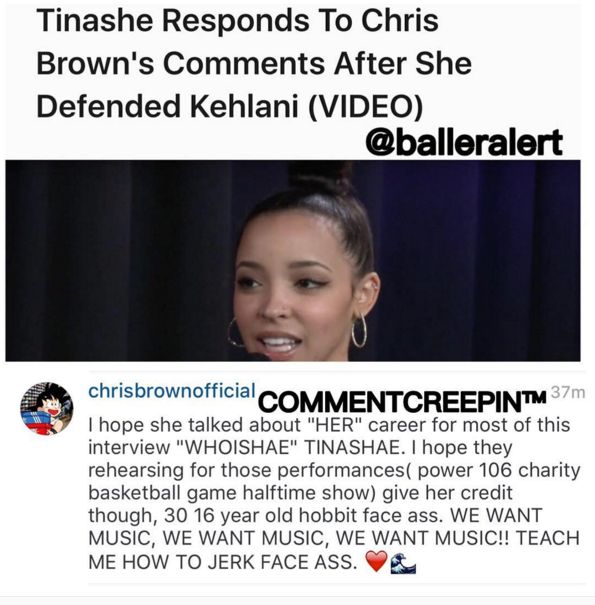 Chris Brown probably knows who Tinashae is, since they collaborated on the 2015 single 'Player.'
Discuss