Yesterday, the Twittersphere was buzzing about an altercation Chris Brown allegedly had with gang members after Meek Mill's post-Grammy party. Rumor had it that Breezy was confronted by a group of men, chased out of the party, and then beaten and pistol-whipped.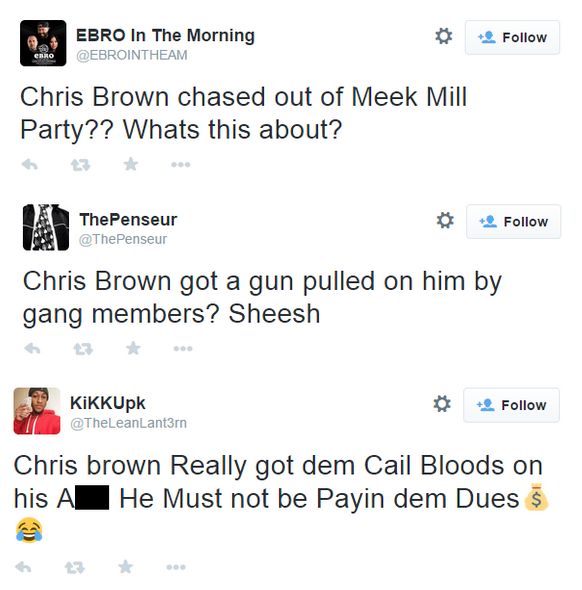 Given Brown's history of violence and gang affiliation, this seemed plausible. But Brown, who just completed the community service for his last probation, got on Instagram last night and dismissed the chatter.
Lol.. Killing these lil rumours that I got beat up last night at meek mill party. It's funny how I'm always the topic of discussion for bullshit. Given my prior encounters with the law I don't conduct myself like that when I go out. So no, I wasnt involved in any pistol whipping or fighting. There was an altercation between other people at the party and I observed. Me and my team left so we wouldn't have anything to do with it so the police wouldn't fuck wit me. You know how my name pops up in everything. Lol. GOOD DAY SIR
This was actually the second time Brown's name was attached to shadiness during Grammy weekend. On Saturday, his Lamborghini was searched by the authorities after they got an anonymous tip that Brown was riding dirty. The car came up clean, but one of Brown's boys -- who was already in the club -- was detained for firearm possession.

For the latest Hip Hop tracks and news, follow us on Twitter.
Discuss