The talk of the NFL this morning should be about the beat down the Chiefs gave to the New England Patriots last night. But instead the Web is buzzing about a controversial unsportsmanlike conduct penalty Chiefs safety Husian Abdullah was flagged for after a pick 6 of Tom Brady late in the game.
Upon scoring his TD Abdullah slide across the end zone on his knees and then went into a a Muslim prayer.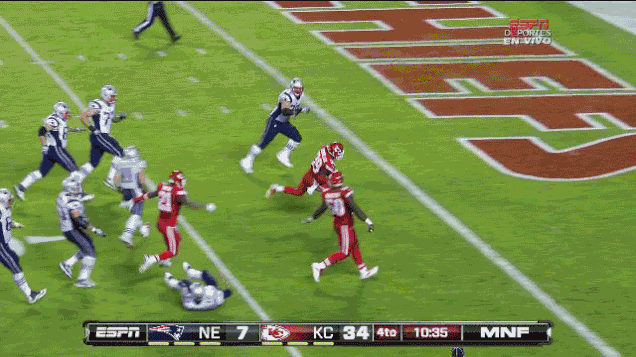 After the game, Abdullah diplomatically said that he thought he was penalized for the sliding portion of his celebration, which would be in violation of the leagues rather confusing set of end zone celebration no-no's. "For me, I just got a little too excited," Abdullah said. "I think it was for the slide."
His coach Andy Reid, and many folks on Twitter weren't so sure; arguing that if a Christian player had celebrated with a similar slide/pray combo he wouldn't have been flagged.
The last thing the NFL needs is a new controversy. Perhaps with that in mind this morning the league admitted the official shouldn't have flagged Abdullah.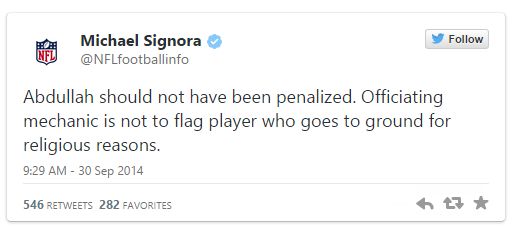 What do you think? Do you agree that Abduallah was improperly flagged, or is the NFL just being too PC? And do you think there should be a special rule that allows for any type of celebration as long it's a Tom Brady pass that you just ran back for a Pick 6.
Discuss