Chief Keef joins the ranks of those who don't understand you can't confess to or encourage crimes on social media
On Friday, Sosa tweeted out to his 1.1 million followers instructions to throw eggs and rocks at a home in North Minneapolis.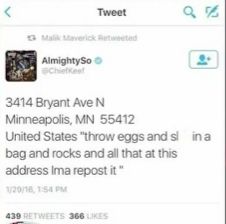 Not long after he posted it, Keef's fans started driving by the house and taking photos, prompting the police to come and protect the home.
The three female college students who live in the residence say they have absolutely no connection to Keef, and are baffled as to why Sosa singled them out.
"I have two other roommates that aren't able to come home tonight because of this, and it's not going to end tonight." One of the roommates told ABC 5. "Social media goes on forever. You could re-tweet this in four months and throw eggs at my house."
The police now want to talk to Keef.

MPD sent a squad over to check out a house on Bryant Avenue N. after rapper Chief Keef tweeted the address to his 1.1 million followers.

— Libor Jany (@StribJany) January 29, 2016
Chief keef a savage for putting that persons address in MN on blast — #FREETRAPCAM (@Jay_sonT) January 30, 2016
Who in north Minneapolis pissed off Chief Keef? He's posting ppl's address on Twitter and telling ppl to egg houses pic.twitter.com/PBAd3snfnX

— Hibz (@Hibzx) January 30, 2016
Almighty So what's good ? @ChiefKeef the block hot pic.twitter.com/DADQ0AyLDj — Mr. Minnesota (@JoJoeDope) January 29, 2016
. @ChiefKeef pic.twitter.com/ILZeJQ2AJf

— babythot (@ab1205_) January 29, 2016
Discuss