It's becoming increasingly hard to defend Bill Cosby. At least 13 women have publicly accused the Jell-O man of sexual assault, with many of them claiming he drugged them before having his way. A good chunk of these allegations have been on the public record for years, but news organization were reluctant to put them together because they didn't want to smear "America's Dad."
However, as the chickens come home to roost, there is at least one public figure willing to defend the Cos.
Chief Keef, take it away: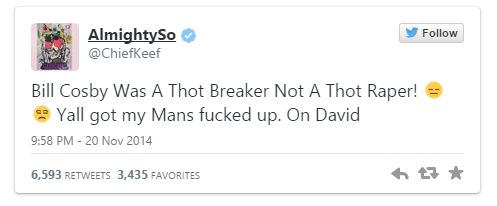 Ironically, Bill Cosby is well known for harsh criticism of Hip Hop culture, which he has derided as "vulgar."
What we're trying to say, Keef, is that if you were drowning the Cos would be just about the last guy to throw you a rope.
Discuss