Radio personality Charlamagne Tha God was among those who Kanye ranted against this weekend.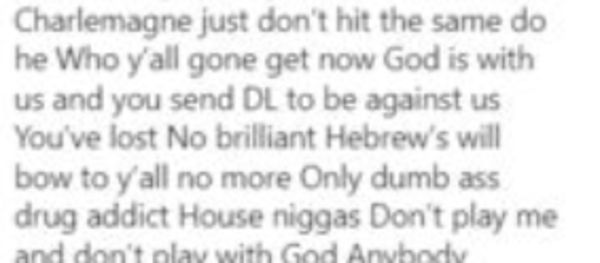 "Charlemagne just don't hit the same do he Who y'all gone get now God is with us and you send DL to be against us You've lost No brilliant Hebrew's will bo to y'all no more Only dumb ass drug addict House n*ggas Don't play me and don't play with God Anybody," Kanye typed and deleted.
CTG struck back this morning by making Kanye his Donkey of the Day for the umpteenth time. During the segment, he suggested Ye's big issue with Pete Davidson dating his ex-wife Kim Kardashian is how big Pete Davidson is.
"Speaking of big egos, Kanye West, remember when you called me last November and we were yelling and screaming at each other?" Charlamagne said after putting on the instrumentals to Beyonce's track 'Ego'. "You told me what you really mad about, king. You told me what is really bothering you in this situation. This is why it's hard to take you serious when I see you rant because I know what's really bothering you. You know I know. You can fool people on social media, you can fool the general public, but you know I know. Let's just leave it at that for now. I have nothing else to say for now. Unless, Kanye, you want me to say more? Personally, I'm just send you some healing energy."
With that, DJ Envy started making comments that emphasized the word "big."
Finally, CTG turned the vocals on to 'Ego' and had Beyonce sing "It's too big. It's too wide. It's too strong."
While we're not sure Pete's manhood is the real reason Kanye's heading for a complete meltdown with possible institutionalization, it may explain the funnyman's success with the ladies.
Discuss