Celina Powell's podcast Thots Next Door seemed like it was a hit for Adam 22's No Jumper network.
However, shortly after Powell and friends exposed famous men like Odell Beckham Jr. and Trey Songz, Adam has canceled the podcast.
Celina Powell is feeling used and went off on Adam on social.
It's with heavy hearts that Aliza and I have to tell y'all, thots next door is canceled... I was gonna make a YouTube video about it but I can't fight back the tears to even talk. Since 2018 Adam22 and I broke the internet countless times, Adam never cared then because only I had backlash. My whole "career" is backlash. I came a month ago to be interviewed & we pulled 19 million views on twitter. We brought the show to him & he accepted it, we didn't ask for any money because Aliza & combined made $300,000 jus for going viral. Because we talked about f*cking black men, he got backlash for the first time. Adam then decided today to interview one of my biggest enemies & didn't care . Loyalty is everything to me. We all decided to just separate. I'm sorry to @obj for embarrassing you, @suns & most importantly akademiks. I truly love akademiks and I chose Adam over him just for Adam to chose views over us.. it's fine though. Aliza and I will find a new home for TND. We love you. I'm sorry to every black person we offended. Oh and Lena you can keep that $500 you paid me to do a p*rn for, I hope it makes y'all all the money you used me for, I didn't cash the check yet, peace.
She also had things to say on Twitter: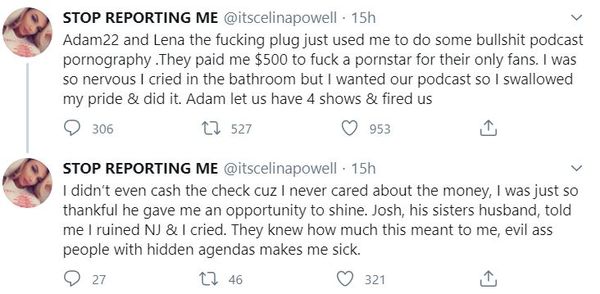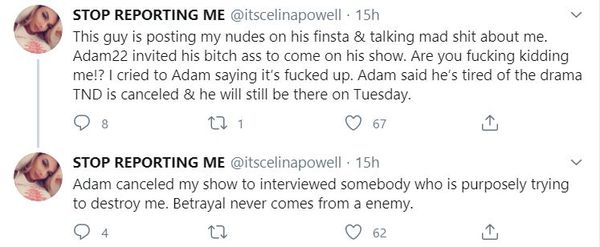 Adam's podcast rival DJ Akademiks took a victory lap:
Damn... onlyfans sex trafficking.
Tragic.

It's crazy when the almighty dollar is the only thing that guides ppls morals.

U crying in the bathroom and they counting the cash from the onlyfans they finna make from u getting piped down.

😪😪😪 https://t.co/dqXojY6mUv

— DJ Akademiks (@Akademiks) September 13, 2020
Discuss