Slam Magazine is in the process of naming their 50 best NBA players for the 2016-2017 season.
Today they revealed 13-15. Carmelo Anthony, who was 15, was not pleased.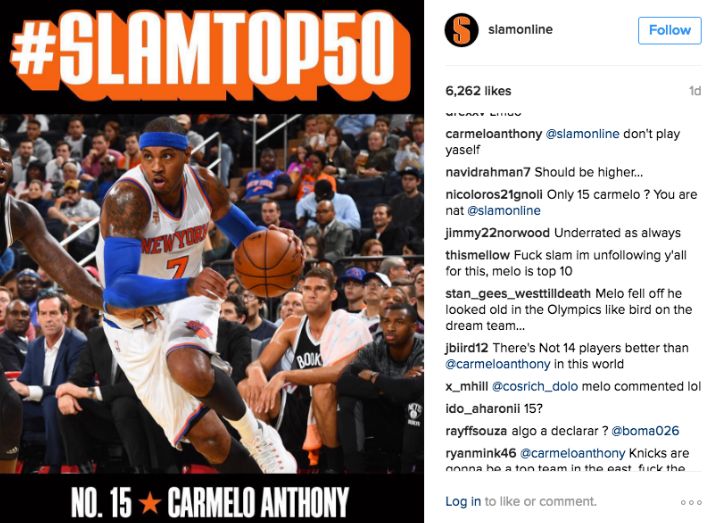 And he kept going in.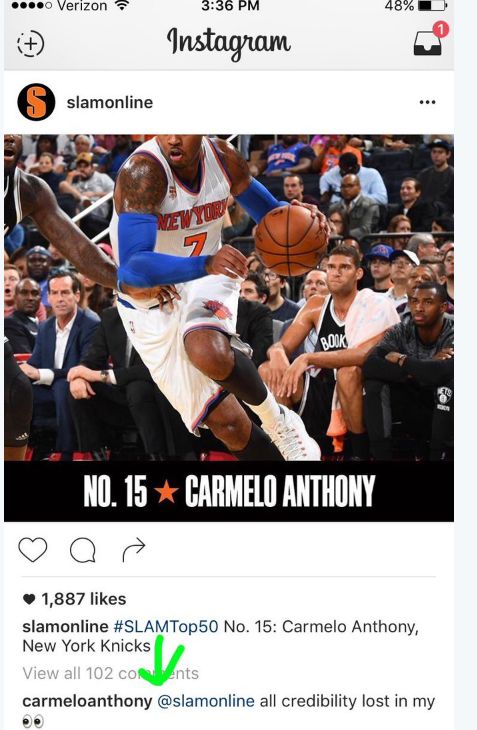 Does Melo have a point. Here are the top 50 so far, in order.
50 Ben Simmons, 49 D'Angelo Russell, 48 Derrick Favors, 47 Devin Booker, 46 Chris Bosh, 45 Bradley Beal, 44 Eric Bledsoe, 43 Serge Ibaka, 42 CJ McCollum, 41 Pau Gasol, 40 Rudy Gobert, 39 Kevin Love, 38 Dirk Nowitzki, 37 Kristaps Porzingis, 36 Kemba Walker, 35 Dwight Howard, 34 Hassan Whiteside, 33 Gordon Hayward, 32 Mike Conley, 31 Andrew Wiggins, 30 Dwyane Wade, 29 Paul Millsap, 28 Marc Gasol, 27 Al Horford, 26 Giannis Antetokounmpo, 25 Isaiah Thomas, 24 DeMar DeRozan, 23 DeAndre Jordan, 22 Andre Drummond, 21 Kyle Lowry, 20 Karl-Anthony Towns, 19 Jimmy Butler, 18 LaMarcus Aldridge, 17 John Wall,  16 Draymond Green, 15 Carmelo Anthony, 14 Blake Griffin and 13 Klay Thompson.
These are the 12 players rated in front of Melo. They are in no particular order because Slam hasn't ranked them yet.
Stephen Curry, Chris Paul, Kevin Durant, Lebron James, Russell Westbrook, Kawhi Leonard, James Harden, DeMarcus Cousins, Anthony Davis, Paul George, Damian Lillard and Kyrie Irving.
Do you think Anthony is better than any of the 14 players in front of him on Slam's list?
Discuss