A lot of folks were upset when Cardi B's Invasion Of Privacy album won Rap Album of the Year at the Grammys in 2019. The Bronx rapper just received the trophy a few days ago and posted it to social media.
Many said she was doing it for attention and got at her.
Cardi had something to say about it after Roddy Ricch shared the Grammy trophy that he won for the song "Racks in the Middle" with Nipsey Hussle. People congratulated the L.A. artist, which Cardi thinks is hypocritical.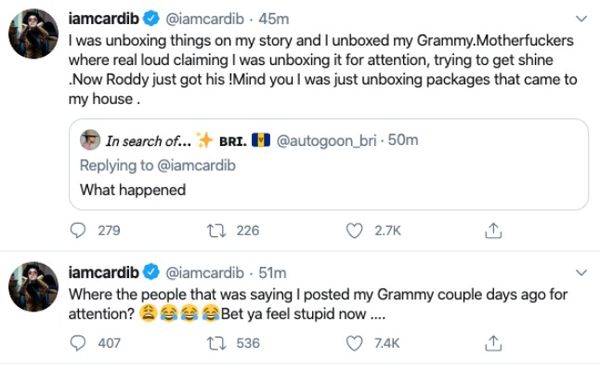 "I was unboxing thins on my story and unboxed my Grammy. Motherf*ckers where real loud claiming I was unboxing it for attention, trying to get shine. Now Roddy just got his! Mind you I was just unboxing packages that came to my house," Cardi typed. "Where the people that was saying I posted my Grammy couple days ago for attention? Be ya feel stupid."
Why do you think people care if Cardi chooses to show off her Grammy trophy or not?
Discuss