Allegations of cheating have infected the relationship of Cardi B and Offset.
Cardi addressed the rumors during the Holiday Hip Hop Festival in Mississippi last month, warning Offset from the stage.
"I let a nigga know, though, you do that shit again you gon' lose your wife," said Cardi with Offset in attendance.
However, the 25-year old took a much different tone in a recent IG comment in which she rationalized staying with her Migo fiance even if he does cheat on her.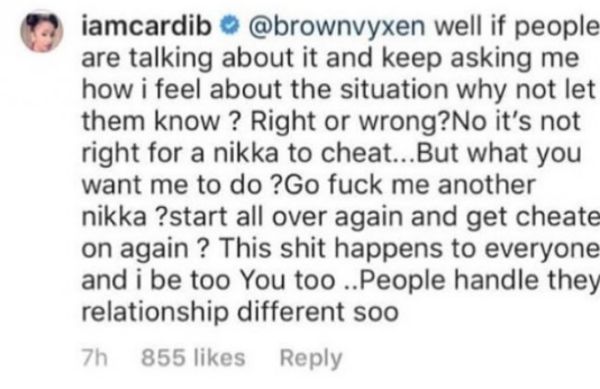 "Well if people are talking about it and keeping asking me how if feel about the situation why not let them know? Right or wrong? No it's not right for a nikka to cheat ... But what you want me to do? Go fuck me another Nikka? start all over again and get cheate on again? This shit happens to everyone and I be too. You too ..People handle they relationship different soo," Cardi writes.
Do you think "everybody cheats" is a good reason to stay with someone who cheats?
Discuss