Earlier this week, media personality Taxstone dropped the "rat" label on Cam'ron and Tupac.
Tupac ratted, according to Tax, when he insinuated Puff Daddy and The Notorious B.I.G. orchestrated the 1994 attack against him at New York City's Quad Recording Studios.
"Same situation with Cam'ron with the whole Roc-A-Fella thing," Taxstone continues. "When he was like, 'Yo, I seen that Roc sign when the shots went off.'"
Killa Cam made that accusation in the intro of his 2006 Jay Z diss 'You Gotta Love It,' and it is in reference to a failed 2005 car jacking attempt against him in Washington DC.

Unlike Pac, Cam can defend himself, and he was none too happy about getting branded with the scarlet S. The 40-year old explained why he's not a snitch on IG.
"Let me explain something to you motherfuckers," Cam said "Snitching is when you have paperwork and you trying to send somebody to jail, or you sent somebody to jail. Not what you hear in a rap song or what you hear in an interview. The interrogation room. Not in the streets. Jail bars." "I actually went to jail for not snitching, nigga," he continues. "I violated my probation for being in Washington, DC and didn't tell. I went to jail on Riker's Island for violating my probation."
Taxstone wasn't convinced:
If you a rat you a rat don't Try to change the definition m — DADITO CALDERONE (@TAXSTONE) May 25, 2016
"Offer information that ain't necessary" - Camron

"I seen that roc sign go up when the shots went off" - Camron — DADITO CALDERONE (@TAXSTONE) May 25, 2016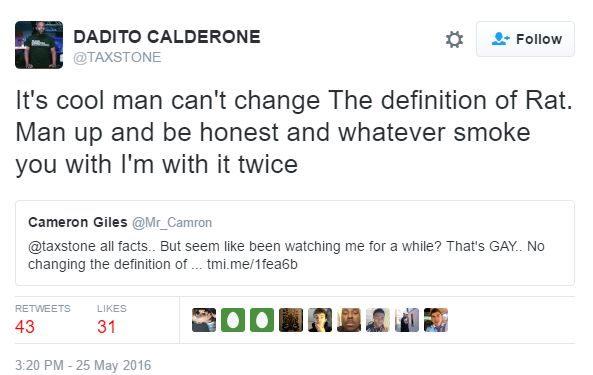 Damn nigga can't even be a man and admit his wrong thugs don't do that but TRU life already proved he wasn't that — DADITO CALDERONE (@TAXSTONE) May 25, 2016
And I'm bout to listen to mad cam I'm not mad at him I just wanted him to explain those actions that changed my views on him

— DADITO CALDERONE (@TAXSTONE) May 25, 2016
It hurts to see people you once looked up to that you have to look down on now — DADITO CALDERONE (@TAXSTONE) May 25, 2016
Niggaz a whole bitch LMAOOO

— DADITO CALDERONE (@TAXSTONE) May 25, 2016
I genuinely like Camron but if he keep talking he gone be on the get the shit smacked out of you list also — DADITO CALDERONE (@TAXSTONE) May 25, 2016
Discuss