Bow Wow has said that he's immune to all of the Internet jokes about him.
But it didn't seem that way earlier this week when many of his IG followers clowned the insanely clownable 30-year old.
It all started when Bow posted a video of him at the club with a bottle of booze.
Given Bow's history of pretending he has things like private jets and fans, many of his IG followers took the opportunity to make jokes about how they doubted he could afford the bottle service in a club like LIV.
In response, Bow snapped.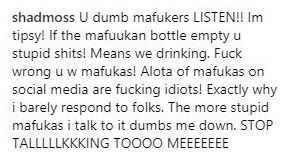 "U dumb mafukers LISTEN!!," Bow Wow ranted. "Im tipsy! If the mafuukan bottle empty u stupid shits! Means we drinking. Fuck wrong u w mafukas! Alota of mafukas on social media are fucking idiots! Exactly why i barely respond respond to folks. The more stupid mafukas i talk to it dumbs me down. STOP TALLLLLKKKING TOOOO MEEEEEEE."
It's the second time this week Bow's poured salt all over the Internet.

Earlier, he used Twitter to suggest Future is a sucker for hooking up with his baby mama Joie Chavis.
Is Bow about to snap? If so, can you even imagine the kind of social media fuckery that could spew?
[Related: The Bow Wow Challenge is here after Shad caught in epic fake flex.]
Discuss