Whether you vote and who you vote for is a personal decision.
However, in a recent Twitter discussion Bow Wow made public his reasons for why he's sitting out the 2016 election and one of them is a little odd.
The 29 year old won't pull the lever in November in part because he's mixed race.
He then expanded upon the theme by sharing a photo of his light skinned dad.
He also spent the evening on Twitter defending his decision not to vote.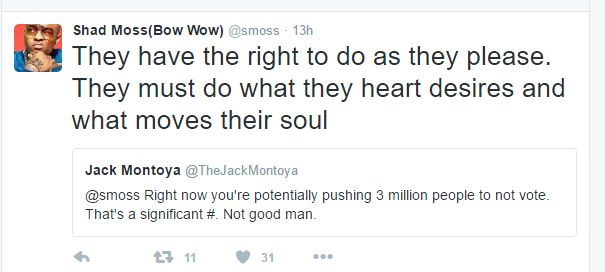 He did make one exception.
@smoss who are you voting for ?

— TjaiVesey (@tjai_24) July 28, 2016
Kanye West https://t.co/00tiUbIBIg — Shad Moss(Bow Wow) (@smoss) July 28, 2016
Are you following Bow Wow's logic on not voting?
Discuss