Drake fans in up to eight US cities have been excitedly buying tickets to see their man perform during what appears to be a spring North American tour.
The only problem is Drizzy hasn't planned a North American tour.  At this point his only scheduled dates are overseas or at big U.S. festivals like Coachella.
But some unidentified scammer has tricked venues, like Houston's Arena Theatre, into thinking otherwise. And some of these venues have begun selling tickets to the fake shows.
Upon hearing that folks in Houston are shelling out money for a May 17 Drake concert, the emcee's rep issued this statement
"Drake has never been scheduled to appear at the Arena Theatre venue. When we learned of this situation we immediately encouraged the venue and promoter to contact law enforcement to initiate an investigation. We are horrified that someone would use Drake's name to take advantage of his fans. For any individuals who may have fallen victim to this, please contact your local authorities."
The Arena Theatre then apologized and offered anyone dupped a refund.
"Regrettably, we want to offer a full refund for your purchase of Drake tickets. The Arena Theatre was issued a contract and sent the appropriate deposit related to this contract, however, Drake has not confirmed his availability to perform under the terms of this agreement for the May 17th date. We are aggressively working with the OVO camp to arrange a mutually-agreeable date. Upon confirmation, you will be the first people notified due to your loyal patronage."
There's been a trend in Hip Hop of scam promoters setting up fake shows. But it's hard to believe such trickery could be pulled off using the name of the hottest rapper in the game right now.

We'll keep on this one, because something smells fishy.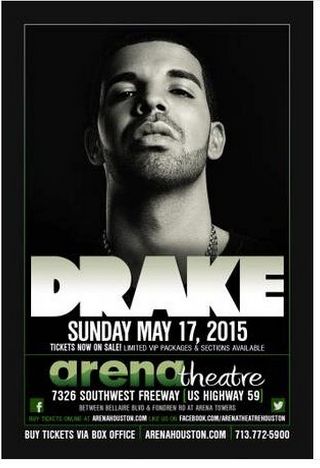 For the latest Hip Hop tracks and news, follow us on Twitter.
Discuss