50 Cent didn't like what he saw happening to Lil Baby at Michael Rubin's white party earlier this week.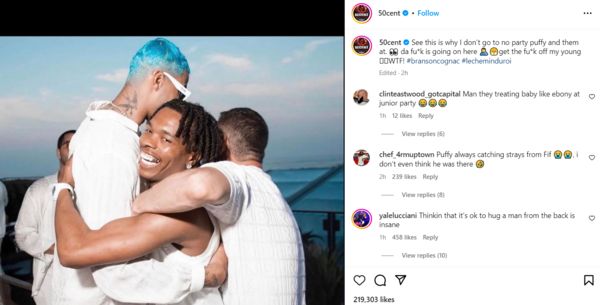 "See this is why I don't go to no party puffy and them at. 👀 da fu*k is going on here 🤦‍♂️😤get the fu*k off my young 🥷🏾WTF," 50 Cent captioned a photo of Lil Baby getting hugged from behind by Rubin and from in front by a blue-haired man.
While one would think Boosie Badazz with be with Fif's concern about industry rituals performed on young rappers, he took it in another direction.
During a Live session, Boosie said it was just a "bad photo" and everyone needs to lay off Baby.
"I ain't finna sh*t on Lil Baby," Boosie said. :I don't give a f*ck what picture he took. Ya'll can get off my live with that Lil Baby sh*t, I'm letting ya'll know. Yeah, that's my n*gga. That man likes pussy. That man likes straight pussy."
Are you convinced?
Discuss