The physical and all-platform version of JAY-Z's 4:44 album drops tomorrow.
As it expected it will contain three bonus tracks.
They are 'Adnis', which we've already heard a snippet of, 'Blue's Freestyle/WeFamily', and ManyFacedGod, which will feature James Blake.
[Related: Preview JAY-Z track 'Adnis.']
Hov's 13th solo album has already gone platinum, but the bonus tracks give fans  a reason to buy what they already may have streamed.
Here's the updated tracklist.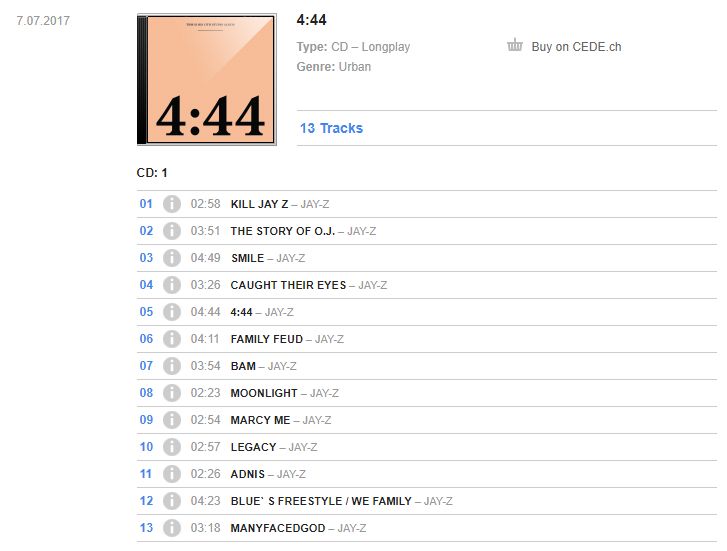 In an interview with Rolling Stone, the album's producer No I.D. explained why 4:44's first version had only ten songs.
"A lot of the thought process was, I held up classic albums and said, 'What were the good parts and what were the mistakes?' Sometimes these classics, the continuity is what makes them classic, and then you have these examples of reaching for the single or the radio record. Albums I was pointing to were like Marvin Gaye's What's Going On, Confessions by Usher, [Jay-Z's] The Blueprint, [Nas'] Illmatic, [Kanye West's] My Beautiful Dark Twisted Fantasy. I analyzed the mistakes and tried not to make those mistakes. We wanted 10 really good songs where at no point are you like, "I know what you're trying to do, you could've kept that one." Sometimes you look back 10 years later and you go, "I see why you did it then, but 'No, thanks' today."
Do you think Hov and No I.D. achieved that with 4:44?
Discuss