Earlier this week, Bobby Shmurda said he's having trouble dropping new music because producers are charging too much.
"These producers are giving me like the hardest time," Shumrda said. "I never seen no sh*t like this before. It can't be that bad outside, my n*gga. I've already made over half a mil for the year ... Why is n*ggas ODing, I'm supposed to drop my project but these n*ggas are asking me clearances and these f*cking producers are asking for some crazy sh*t and I don't know what rumors are going around they think, 'oh Bobby's just dropping bags' dis dat and whatever. I'm not giving n*ggas 10K, 8K for no f*cking producer. Who the f*ck told you to make songs with ten motherf*ckers on the song ... don't play me bro."
Two producers, Boi-1da and Cardo have clapped back.

"Designer beats cost designer bread," Boi-1da responded.
Cardo got deeper into it.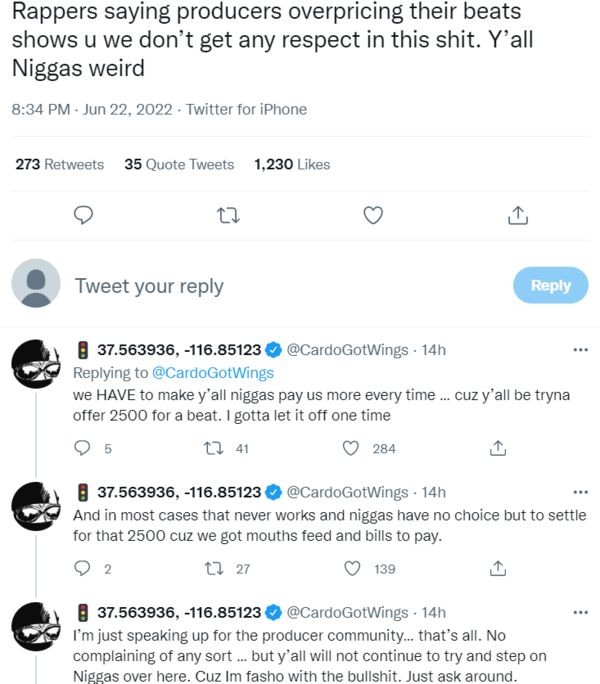 "Rappers saying producers overpricing their beats shows u we don't get any respect in this shit. Y'all N*ggas weird," Cardo typed. "we HAVE to make y'all n*ggas pay us more every time … cuz y'all be tryna offer 2500 for a beat. I gotta let it off one time. And in most cases that never works and n*ggas have no choice but to settle for that 2500 cuz we got mouths feed and bills to pay. I'm just speaking up for the producer community… that's all. No complaining of any sort … but y'all will not continue to try and step on N*ggas over here. Cuz Im fasho with the bullsh*t. Just ask around."
Discuss