Blueface may have gone too far.
In his on-again, off-again, now on-again feud with his BM Chrisean Rock he is now focused on his infant son's private parts.
He went as far as posting a graphic photo -- which we are clearly not going to repost -- criticizing what the three-week-old has going on.

He then defended his decision to do such a thing.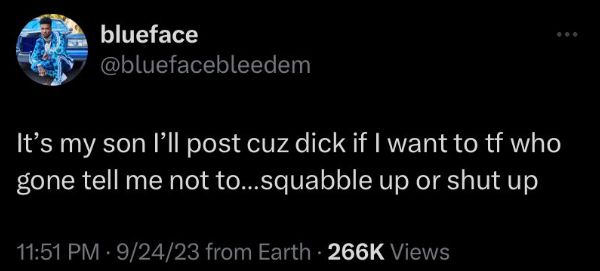 It's pretty bizarre behavior, CPS-tempting behavior. But we know where he got it from. Here's what Blueface's mom said about his peen earlier this year.
Blueface's mom says her man's dick is bigger than her son's dick… 😑🤦‍♂️ pic.twitter.com/q2Vv7itFz2

— Daily Loud (@DailyLoud) March 8, 2023
"I don't mind if you say weird stuff just don't be saying I want to sleep with him, that's just going too far," Karlissa Saffold said while sipping Starbucks. " I got my own dick over here and that's bigger than my son's dick. OK? So we gonna get that all cleared up for you all. And if y'all need me to post that d ..."
Update: Blue is now claiming hack.
My phone was stolen yesterday I just got a new one guys im back my twitter was hacked

— blueface (@bluefacebleedem) September 25, 2023
Discuss