Nipsey Hussle's artist Killa Twan was not happy that Wack 100 said Nipsey had it coming and wasn't a legend during a recent NoJumper interview Wack did with his artist Blueface, who laughed during Wack's remarks.
So Twan fired off this threatening Tweet.
On NicKersons I'll fuck over @bluefacebleedem in a head up squabble. LiL nigga betta watch his muhhfuckin mouf... him & wack!!

— 🗣itsKillaaaaa (@killatwan) November 9, 2019
Blueface shot back in a now-deleted reply, wondering why Nip's assumed killer Eric Holder is still alive if Twan is such a Killa.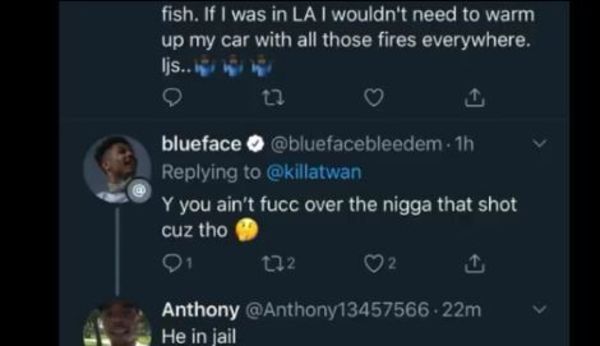 "You ain't fucc over the n*gga that shot cuz tho," Blue typed.
Does Blue have a point, or does Holder being locked up negate it? (They did have a chance at him the day or so after he did Nip.)
Here are the comments Wack made -- and Blue laughed at -- about Nip that had Twan enraged:
"In this situation, you have a rapper and a guy who's straight gang," Wack said. "This all happened in a matter of 45 minutes, not the next day. Because [Nipsey] was dealing with a shooter ... What happened was what was supposed to happen. If I approached someone and say 'yo, you a snitch' I'm going to be ready for that. You're not going to walk away from me. Because I already made my mind up because I'm going to do next."
And this:
"What I'm saying is you got a man who died with a million followers and no radio hit and no platinum plaques. Because everybody started talking like he's the Popeye chicken sandwich everybody jumped on the bandwagon. He went 10-20 times platinum. Radio is spinning his songs. Come on bro ... Nipsey's never been on a world tour. " Why? He did not die n A-list artist."
Discuss