50 Cent is working on a Black Mafia Family series for Starz, and held a casting call in Atlanta earlier this year.
Fif has said he has imprisoned BMF leader Big Meech's blessings to do the series, which doesn't yet have a release date.
However, a new post from the BMF's Instagram page suggested things are not well. In fact, the gang sounds downright furious at 50 Cent for his attempt to tell their story.
"Please get off our dick and stop doing interviews speaking on sh*t you know nothing about boy. You dont have your facts straight about #bmf clown ass n*gga #youwasntthere You are just a groupie cuz trying to figure out sh*t about Real G's and what happened 30 yrs ago when you was a little broke boy who couldn't even pee straight. Never try to depict or describe what we built and put together YOU FAKE A$$ BITCH‼️So you understand #westillhere Not one major artist in the ATL came out to support your fraudulent #bmf casting call. Its a reason why you ain't come back to the D. Fact is you been gas lighting the public for the last 5yrs with that same ole bullsh*t lies. How many times we gotta tell you this aint some fairytale shit made up by a bunch of white writers in Hollywood like #power Matter of Fact You Banned DONT COME TO DETROIT," they typed under a photos of 50 Cent and Tekashi 6ix9ine.
Do you think some money changes hands, the right people get production credits and this gets worked out? Or does Fif have a problem?
Ja Rule is having fun with all of this: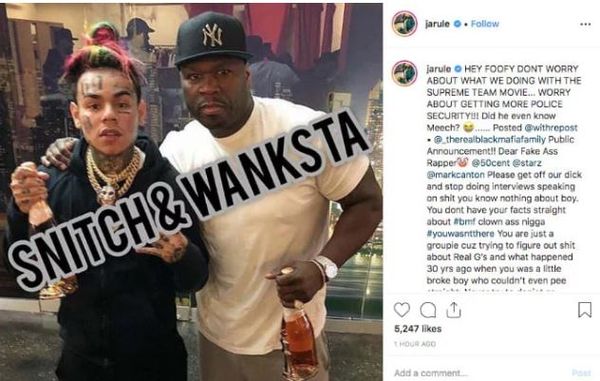 Discuss