Blac Youngsta didn't let Young Dolph being dead get in the way of their longstanding beef.
Blac, who was once charged with shooting up Dolph's car, played the Dolphin diss "Shake Sum" during a club appearance this weekend.
A lot of folks thought that was out of bounds, given Dolph was shot and killed in their shared hometown of Memphis just last month.
Youngsta doesn't care what a lot of folks think. He made that clear in a long Instagram post this afternoon.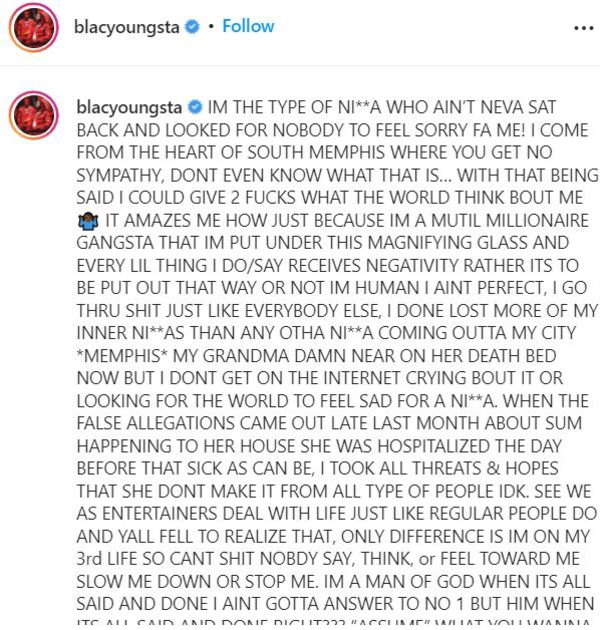 "IM THE TYPE OF NI**A WHO AIN'T NEVA SAT BACK AND LOOKED FOR NOBODY TO FEEL SORRY FA ME! I COME FROM THE HEART OF SOUTH MEMPHIS WHERE YOU GET NO SYMPATHY, DONT EVEN KNOW WHAT THAT IS… WITH THAT BEING SAID I COULD GIVE 2 F*CKS WHAT THE WORLD THINK BOUT ME 🤷🏾‍♂️ IT AMAZES ME HOW JUST BECAUSE IM A MUTIL MILLIONAIRE GANGSTA THAT IM PUT UNDER THIS MAGNIFYING GLASS AND EVERY LIL THING I DO/SAY RECEIVES NEGATIVITY RATHER ITS TO BE PUT OUT THAT WAY OR NOT IM HUMAN I AINT PERFECT, I GO THRU SH*T JUST LIKE EVERYBODY ELSE, I DONE LOST MORE OF MY INNER NI**AS THAN ANY OTHA NI**A COMING OUTTA MY CITY *MEMPHIS* "
He then addressed the [false] rumors that his grandmother's house was shot up in retaliation for Dolph's death.
. WHEN THE FALSE ALLEGATIONS CAME OUT LATE LAST MONTH ABOUT SUM HAPPENING TO HER HOUSE SHE WAS HOSPITALIZED THE DAY BEFORE THAT SICK AS CAN BE, I TOOK ALL THREATS & HOPES THAT SHE DONT MAKE IT FROM ALL TYPE OF PEOPLE IDK. SEE WE AS ENTERTAINERS DEAL WITH LIFE JUST LIKE REGULAR PEOPLE DO AND YALL FELL TO REALIZE THAT, ONLY DIFFERENCE IS IM ON MY 3rd LIFE SO CANT SHIT NOBDY SAY, THINK, or FEEL TOWARD ME SLOW ME DOWN OR STOP ME. IM A MAN OF GOD WHEN ITS ALL SAID AND DONE I AINT GOTTA ANSWER TO NO 1 BUT HIM WHEN ITS ALL SAID AND DONE RIGHT??? "ASSUME" WHAT YOU WANNA "ASSUME" S/O TO ALL MY SUPPORTERS, REAL DAY 1 FANS, FRIENDS, FAMILY AND PEOPLE WHO KNOW THE REAL YOUNGSTA 😈 MY GRANDMA 👵 HOUSE BUILT FROM THE GROUND UP BRAND NEW CONSTRUCTION."
So Blac out of bounds?
Discuss