It looks like Rob Kardashian could have violated California's revenge porn law when he got angry at his baby mama Blac Chyna for cheating and posted nude photos of her.
In a statement issued to People magazine, Chyna's attorney Walter Mosley said they are exploring their legal options.
"I am exploring all legal remedies and protections available to my client at this time in attempts to best advise her on how she may want to proceed," Mosley said.
But for those who'd like to see the next Kardashian reality show take place in lock up ... it's probably not going to happen.

Since Chyna liked one of the illicit photos Rob posted, it could be hard for prosecutors to prove there was an understanding that the images should remain private.

[Related: Rob Kardashian exposes Blac Chyna's cheating with explicit photos.]

Furthermore, "legal remedies" to someone like Chyna likely involve a big stack of Kardashian cash.

Not Rob in prison and unable to pay for her latest enhancements.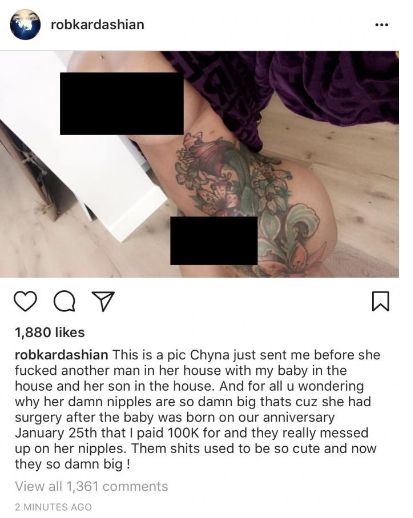 Discuss