Have you heard the news? Blac Chyna and Rob Kardashian are no more.
The famous thot left the reality TV scion after her Instagram account was hacked, revealing that she was only with Rob for the fame and the name. The hack also exposed conversations she had with Young Thug and Jaden Smith.
And by "left", we mean she took the baby and all of Rob's food too.
See the details of the very public breakup and the Twitter reaction below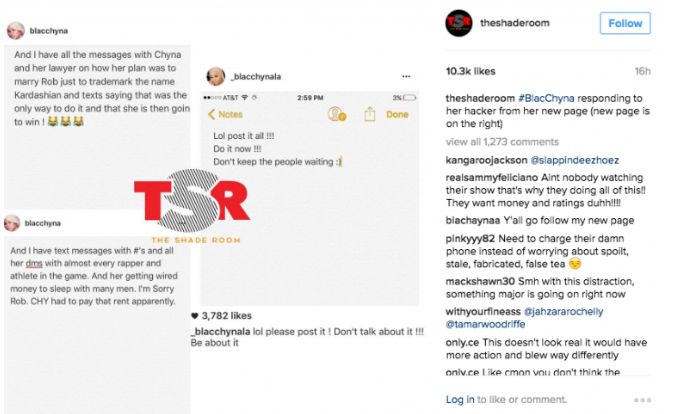 This man Jaden Smith slid in Blac Chyna's dms tryna talk feelings over wine! pic.twitter.com/8nU65Xam6X

— Rah. (@thatguydream) December 18, 2016
Rob was shook up about the whole thing.
Twitter had no mercy.
Rob Kardashian [crying]: Blac Chyna took the baby and left me

Blac Chyna: I JUST GOT BANGS! pic.twitter.com/1tXnVZ71sP — Katie Corvino (@kTc0rvin0) December 18, 2016
Blac Chyna gets exposed, kidnaps her own child, and gets bangs... this has been the season finale of 2016 stay tuned for next season Jan 1st

— josé (@grandestrophy) December 18, 2016
Kris Jenner right now after hacking Blac Chyna and leaking all those screenshots ; https://t.co/csRlVv18Nl

— Joshua Anthony (@Joshneyy) December 18, 2016
I'm screaming, Blac Chyna even cleaned out the fridge when she left Rob pic.twitter.com/Ba2TF7xXRn

— bella vita (@drugproblem) December 18, 2016
Blac Chyna : what else can I do? Blac Chyna : take his eggos pic.twitter.com/LDOdhnIhTj

— D (@MissDaMonet) December 18, 2016
Blac Chyna really took all his food too tho..... this is the season finale of the year 2016 everybody...

— Brandon Romans (@iamprinceromans) December 18, 2016
Blac Chyna is the grinch .. stealing presents .. stealing furniture.. stealing babies ..RUINING CHRISTMAS

— tina bablusha (@_tinabablusha) December 18, 2016
But The Game felt bad for Rob.
Discuss