Nobody was happy when we learned that Martin Shkreli bought the mysterious Wu Tang album Once Upon a Time in Shaolin at auction for $2 million.
That's because Shkreli's practice of purchasing the patents on essential drugs and then jacking up the price thousands of percent has made him one of the most hated men in America.
But there's an odd clause in the deal Shkreli signed with RZA that could give this tale a happy ending. Apparently active members of the Wu Tang Clan and Rza's buddy Bill Murray (and only those people) have one shot at stealing the album back without legal ramifications.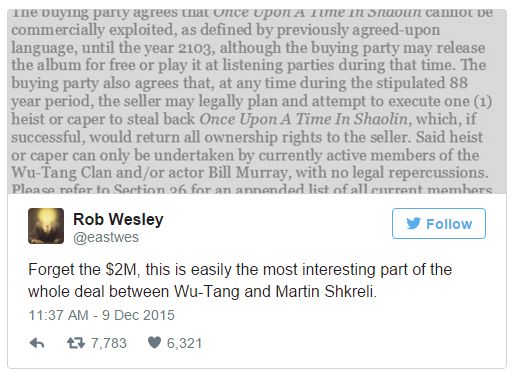 Given the clause, we'd imagine Once Upon a Time in Shaolin is heavily guarded and under lock and key. But if Murray and Wu were to decide to mount a takeback it would make for a pretty terrific movie.
Update: Some sources are calling the heist clause a hoax. While we wouldn't be surprised if it is, there really isn't any solid evidence either way.
Anyway, RZA seems to be having fun with it all:
We're really getting the urge to call Bill Murray.

— RZA! (@RZA) December 11, 2015
Discuss