We thought Benny The Butcher and Freddie Gibbs were friends.
But they have a strange way of showing it.
Gibbs was not happy when Benny said during an interview a project he was doing with Freddie "came and went."
So he fired back in social media video
"N*gga said Freddie Gibbs came and went. N*gga said I know some other sh*t that came and went," Freddie said in response to Benny's interview "Just keep my name out my mouth when you talking to people who are doing interviews. Just say next question I don't want to talk about that n*gga."
Benny caught wind of that aggression and reminded Gibbs that he was the one who wanted to work with him.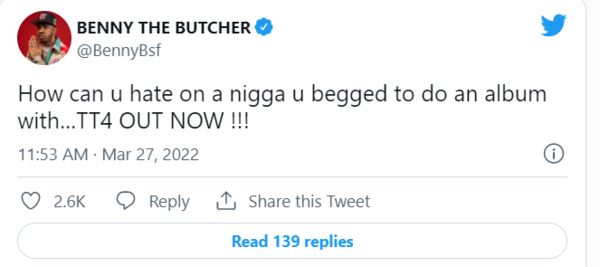 "How can u hate on a n*gga u begged to do an album with…TT4 OUT NOW," Benny said, while promoting his new album.
Do you think Benny and Freddie are joking around or is the aggression real?
Discuss