Update: Musk says "he has never even met [Banks] or communicated with her in any way."
Original post:
It's easy to forget, but Azealia Banks is a rapper.
She's allegedly working on an album, which is supposed to have a feature from indie artist Grimes.
Grimes is the girlfriend of Tesla founder and sorta real-life Iron Man Elon Musk. Apparently, Banks has been camping out at Musk's house for the last few days, waiting to get a chance to work with Grimes.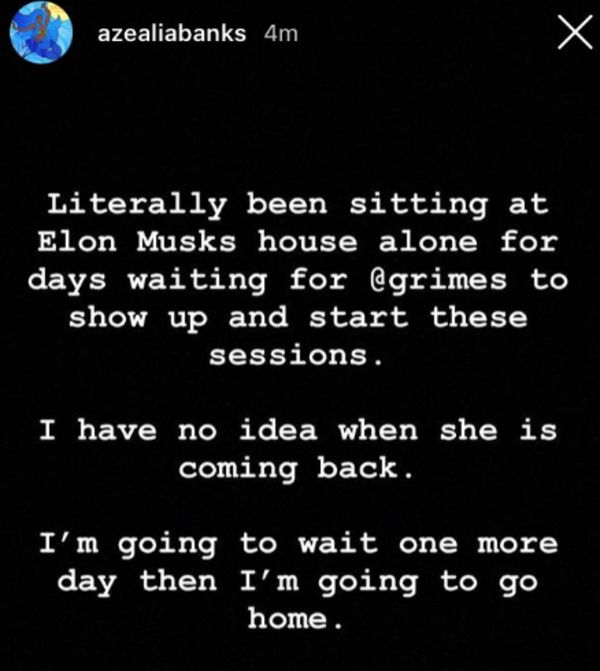 During her time at Musk's house, she learns that Elon has been using Twitter while on acid (perhaps that's why this happened) and comes to believe Musk and Grimes invited her over for a threesome.
Azealia Banks exposing Elon Musk for tweeting while on Acid.. while she was waiting for Grimes at her home ... whewwww lord 😳 pic.twitter.com/i9BXWWrLAD

— sadhoeflo (@sadhoeflo) August 13, 2018
Of course, Banks likes making things up. But something doesn't have to be true for Twitter to enjoy it:
Azealia Banks, Grimes, and Elon Musk this weekend at Elon's mansion
pic.twitter.com/sKkfy6QAqt

— Dad Girls Club (@KimCordashian) August 13, 2018
Azealia Banks spending 2 days babysitting Elon Musk through his acid trip as she waits for Grimes to come home is exactly the news I ask for with the 24 hour news cycle

— Successica Simpson (@miwillmott) August 13, 2018
azealia banks eating all of elon musks food as she waits for grimes to return pic.twitter.com/tKCFwgQJoY

— rainbeaux (@rainbeauxlayne) August 12, 2018
azealia banks sitting in elon musk's house for the third day in a row while she waits for grimes pic.twitter.com/1GuE6XCKIP

— ethical cum farmer (@thottielamottie) August 12, 2018
azealia banks wandering around elon musk's house alone right now is too 2018 to handle

— ENIGMA pop star is fun, Joanne peaked at #1! (@rossleonardy) August 12, 2018
elon musk: honey i'm home!

azealia: pic.twitter.com/1qELrTr4oa

— haley (@dummyassbinch) August 12, 2018
Discuss