We haven't heard about Azealia Banks in a sec.
But, don't worry, she's still highly argumentative and highly unstable.
Banks is angry that she was "treated like an animal" on a recent Aer Lingus flight. (Given her history on airplanes, we suspect she's either exaggerating or deserved the treatment.) Aer Lingus is an Irish airline, and she ended up getting in a social media fight with the entire island nation, which included this insult.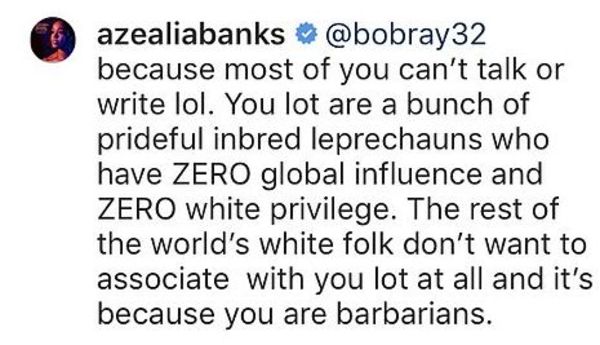 "You lot are a bunch of prideful inbred leprechauns who have ZERO global influence and ZERO white privilege," Banks said in Instagram comments. "The rest of the world's white folk don't want to associate with you lot at all and it's because you are barbarians."
Banks also got geopolitical in her latest argument with Cardi B, suggesting the much more popular rapper -- who has been complaining about attacks from the right wing -- address colorism in her ancestral home of the Dominican Republic.
All these conservatives been harassing me and telling me the most disgusting things these past few days.Listen I'm not telling ya to turn liberal all I'm saying is to admit that your president is fuckin up this country right now! Liberal or conservative we ALL suffer as citizens.

— iamcardib (@iamcardib) January 22, 2019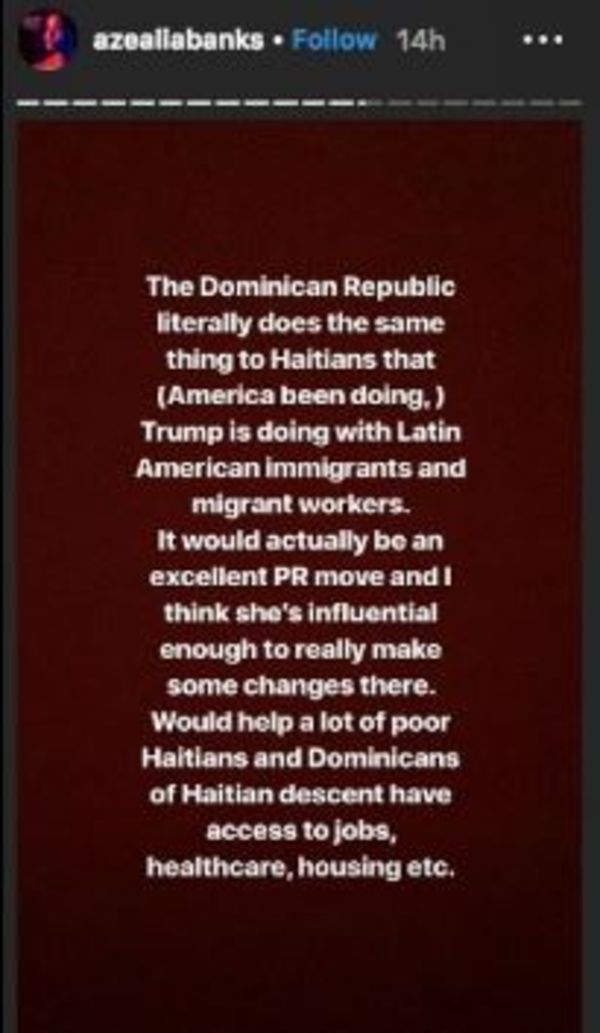 "The Dominican Republic literally does the same thing to Haitians that Americans been doing, Trump is doing with Latin American immigrants and migrant workers. It would actually be an excellent PR move and I think she's influential enough to really make some changes there. Would help a lot of poor Haitians and Dominicans of Haitian descent have access to jobs, healthcare, housing, etc," Banks typed.
Discuss