The Migos run of increased relevance really kicked into gear at The Golden Globes, when Atlanta star Donald Glover said this after being awarded the Best Actor in a TV series, Comedy or Musical trophy.
"I really want to think Atlanta and all the black folk in Atlanta, just for being alive and being amazing people. I couldn't be here without Atlanta. I really want to thank The Migos, not for being in the show, but for making 'Bad and Boujee.' Like, that's the best song ever."
It was unclear if Glover was being serious with the praise, or if he was engaging in some of the sarcastic "Migos are the new Beatles" chatter that was all the rage a couple of years ago.

A tweet last night from his Atlanta co-star Lakeith Stanfield suggests it could all be a joke.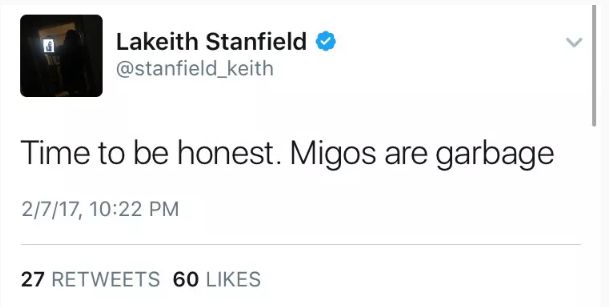 Stanfield did delete the tweet soon after posting it. And his opinions are not necessarily the same as Glover's.
But it makes you wonder ...
Discuss