Fivio Foreign is willing to bang his sister's sister with his sister in the room.
But he doesn't want to have anything with Asian Doll.
For reasons only known to her, Asian dreamed up a whole scenario involving Fivio and posted it on Twitter.
Then Fivio shot it down.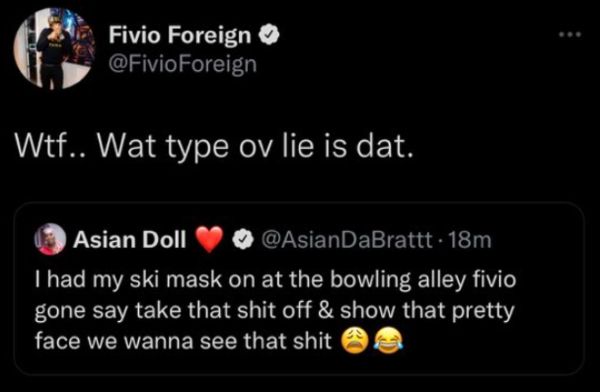 "I had my ski mask on at the bowling alley fivio gone say take that sh*t off & show that pretty face we wanna see that sh*t," she typed.

"Wtf ... Wat Type ov lie is dat?," Fivio shot back.
Here's some of the reaction to all of that.
They said Asian Doll the first person to get CTE from a BBL

— mo (@mofromthesix) January 14, 2022
Asian doll's brain needs to be studied in a clinical trial

— MB 💎 (@1prettyvirgo) January 14, 2022
asian doll humiliation kink shud b investigated by a psychologist

— jaiden 🇳🇬 (@reggiecahta) January 14, 2022
Asian Doll made up a whole screenplay in her head and chose Fivio as the male lead. https://t.co/WMrw8yHVpd

— 👟 (@dirtywhiteups) January 14, 2022
Discuss