In May, Antonio Brown took off all of his clothes in a Dubai pool and appears to harass a female pool goer.
This is sexual assault. And every man watching & egging it on is complicit. My gosh. Antonio Brown is a danger to society.

He puts his butt in her face twice. He wraps a scarf around her head & shoved her under water. He's naked and grabs her from behind then flashes his junk. pic.twitter.com/bC6ANkgkaU

— Top-Of-Mind Rocky 🇺🇸 (@wavechaser2024) October 1, 2022
The video just leaked last night, months after it happened
Brown has a theory as to why we are just seeing the video now.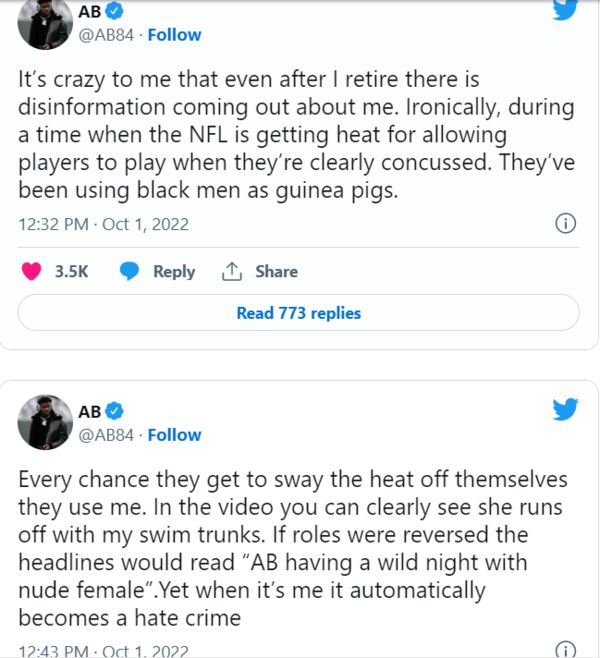 It's crazy to me that even after I retire there is disinformation coming out about me. Ironically, during a time when the NFL is getting heat for allowing players to play when they're clearly concussed. They've been using black men as guinea pigs,"AB typed. Every chance they get to sway the heat off themselves they use me. In the video you can clearly see she runs off with my swim trunks. If roles were reversed the headlines would read "AB having a wild night with nude female".Yet when it's me it automatically becomes a hate crime."
Miami Dolphins QB Tua Tagovailoa suffered a scary concussion on Thursday night football this week. The week before Tua had seemingly suffered another concussion, however, the team classified it as a back injury and he was allowed to continue to play.
Do you think the league is covering that all up by pointing the dirty stick at AB?
Discuss