Amber Rose wants Super Bowl tickets and is willing to go all out.
On Monday, January 30, she posted an Instagram message about what she's willing to do.
"Yo, who's ass I gotta eat to get tickets to the Super Bowl?" wrote Rose.
She also included another message in the caption.
"Bitch I'll have a busy eatin' contest for them tickets #FlyEaglesFly," wrote Rose, who's from Philly and obviously excited about the Philadelphia Eagles heading to the Super Bowl.
The last time we heard from her she talked about being more in love with Wiz Khalifa than Kanye West since she dated both of them.
As for the Super Bowl thing, people like Diplo and Russell Simmons have already responded to Rose's message.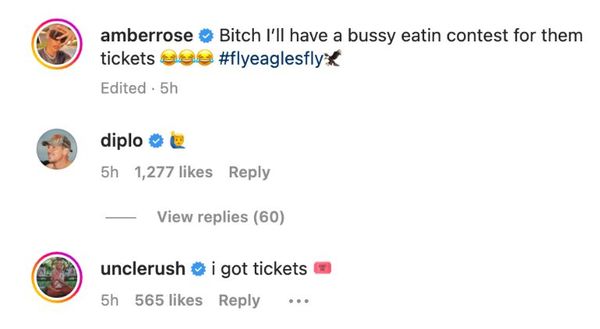 "I got tickets," wrote Simmons.
Discuss