There's been some evidence recently that Drake uses his OVO goons to regulate for him.
But according to Toronto city worker and amateur photographer Matt Small, Drake himself isn't afraid to intimidate.
Small says he was taking photos of a Toronto sunset when a helicopter landed in a fenced off lot in front of him. Out steps Drake and two identically dressed mystery women.
Small started snapping photos of Drizzy and that's when things got hairy.
First, a male member of Drake's entourage confronted Small, thinking he was a professional paparazzo.
Small explained he was "nobody" and he wasn't even shooting with the type of camera lens a celebrity photographer would use.
Small continued to take photos. That's when Drake removed his fur coat, scaled the six foot chain link fence at a break in the barbed wire and got in Small's grill.
"He was in my face, saying, 'You need to delete those pictures out of respect,' " Small's told The Toronto Star. "I said, 'You're not respecting me right now man, you're in my face harassing me.'"
Drake kept demanding Small delete the photos, and one of Drake's goons tried to snatch his memory card.

At this point another amateur photographer saw what was going on and came to Small's aid.
"I went up with my phone up, 911 dialed but not calling it yet," Michael Massie, who works as a doctor, explained. "I said, 'Whatever's going on, someone tell me, otherwise I'm calling the police right now.' And the first person who comes up to me is Drake. And Drake says, 'Your buddy has to give us his memory card and delete his pictures.' I said, 'I don't even know him.' He goes, 'You've gotta get rid of your pictures, too.'"
Finally, Small and Massie convinced Drake that it wasn't in his interest to take their cameras. But before Drizzy left in his limo he asked Massi for his first name.
"[Drake] points back and says: 'I'm going to find you, Michael.' I don't know where the (hell) that came from!" Massie said, with a laugh. "I thought we were OK."
Small told the Star he reported the incident to the police the next morning, but they told him there wasn't much they could do.

Here's the photo Drake made such a big fuss about: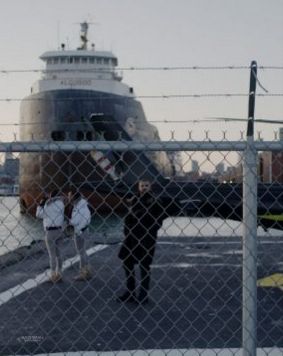 Discuss