Remember Amanda Bynes?
She was all over Nickelodeon around the turn of the century and then starred in a bunch of movies.
That all unraveled about five years ago when she went completely nuts and spent time in a mental facility.
During her extended breakdown, she unleashed this Tweet.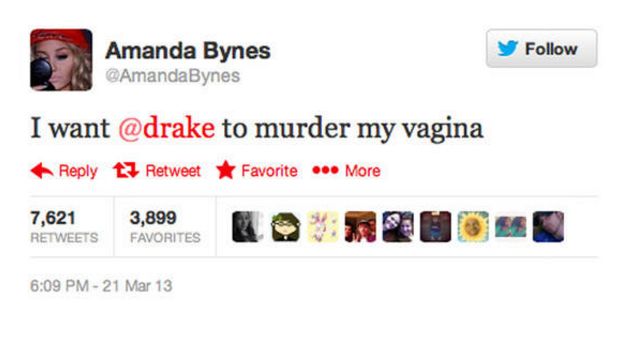 Bynes is apparently sane and sober these days, and she addressed her notorious message to Drake on Diana Madison's Lowdown show.
"I actually wasn't being insincere," Bynes explained. "I was, like, saying 'Murder my vagina.' I was serious, but I was also on drugs. So that was my way of saying, like, 'Let's do it, man!' But I was, like, on drugs and trying to be hilarious."
Do you think Drizzy could "murder" a vagina?

Bynes talks Drake at about the three-minute mark.
Discuss