Just like last year, the Oregon University Doernbecher Children's Hospital in Portland is teaming with Nike to bring a batch of highly-stylized sneakers designed by kids with terminal diseases. This year one of the designers, Caden Lampert, really scored with this pair of Air Jordan 8 Retros. According to Nike's website:
Caden was diagnosed with Guillain-Barré syndrome, a life-threatening autoimmune disease where the body's immune system begins to attack the body itself. He's a magician. A musician. A maker. A dirt bike racer. And an excellent shot with a rubber band. Caden's canvas (the Air Jordan 8 Retro) is full of personal details including words to live by all over the shoe: "Hang Loose", "Rock On" and "Brave". Caden has a burning passion for the sport of basketball, his jersey #14 can be seen on the top of the straps while his brothers' names, Blake and Ryland, are written underneath the straps.
Caden's Retro 8s will go for $190 in men's sizes, and $125 for boys. They will be available tomorrow November 23 at Nike.com and a few select Nike stores. Limit one per customer. Check out more photos below.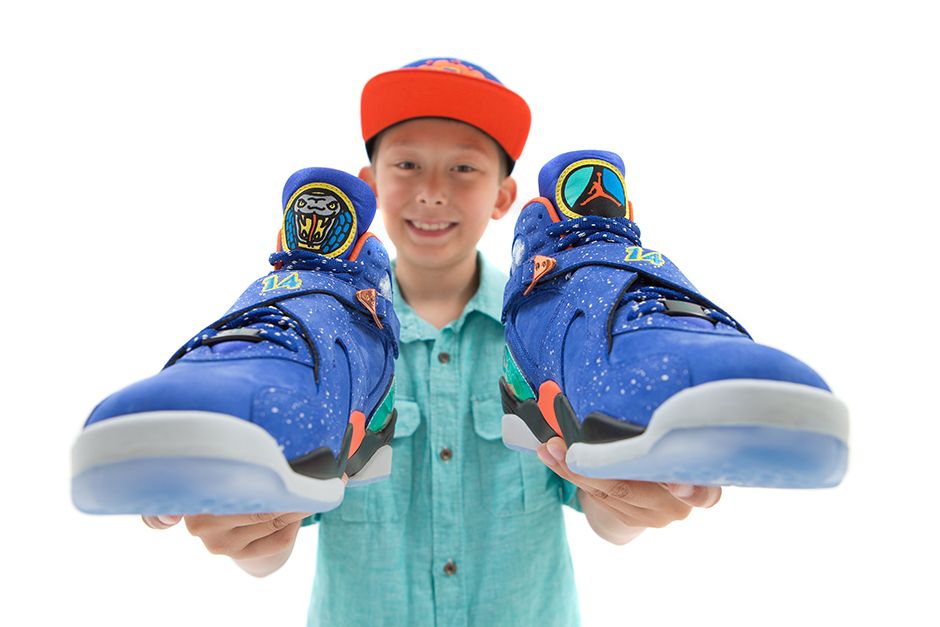 Discuss