Earlier this year, elusive emcee Jay Electronica got sloppy off something and tried to son Kendrick Lamar during a slurred speech periscope session.
"You could pay Kendrick a million dollars. Kendrick would tell you his self he couldn't body me, Kendrick is my son, Kendrick is my baby, Kendrick wishes he could be me," Jay said.
Ab-Soul remembered that, and on his new Do What Thou Wilt album he disses Jay for his TDE homie on the very first track, 'RAW (backwards.)

https://open.spotify.com/track/3jiRlqa95xI1b42rDeLaRk
I was like a swami of Jay Electronica until he Figured Dizzle wouldn't admit that he would body him for a milli I told Kenny keep quiet, I'ma get him We don't need dirt on your hands getting the key to the city ya feel me Hurts when your OG, who is supposed to be a G-O-D Is standing next to King Kunta feeling like Toby
If that sounds familiar, it's because it's almost exactly the same bars as Ab spit at Electronica in a Steez Day freestyle.

Jay had actually apologized to Kendrick for the insult, but it looks like TDE doesn't forgive.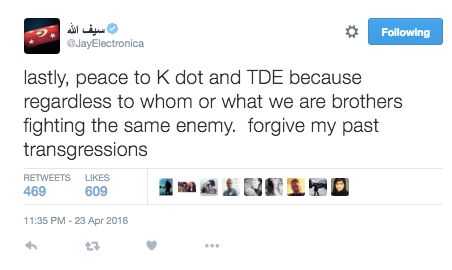 Maybe Electronica can revisit it all when (and if) he puts out that album.
Discuss