There's been lots of social media happenings between 50 Cent and his ex-Tatted Up Holly this week. First she used Instagram to accuse him of beating her, and then he issued her a non-specific public apology.
Yesterday, A$AP Rocky was added to the fray when Fif posted a screenshot of a DM Rocky had sent to Holly, and then mocked the 26-year old's fashion sense and cash flow in an IG post which he has since taken down.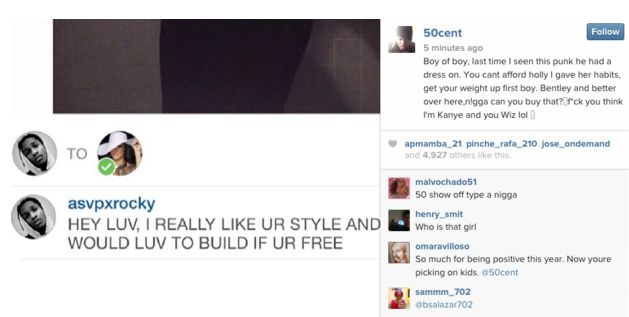 Rocky has responded to Fif today with a couple of tweets and an IG post. Which Internet tough guy is winning this social media beef?
I SEE BEAUTIFUL WOMEN N GET INSPIRED , AINT KNOW SHE WAS URS, GOT RESPECT 4 U SO QUIT ACTING LIKE A JELOUS SUGAR DADDY, KEEP IT CLASSY BRUH — LORD FLACKO JODYE II (@asvpxrocky) February 1, 2015
IM WIT ALL THE SHITS, YALH GOT ME FUKED UP. NIGGAS OUT HERE BE IN THEY GIRL'S DM'S MORE THAN ME N SHIT, EMO THUGS, MAKIN US ALL LOOK SILLY — LORD FLACKO JODYE II (@asvpxrocky) February 1, 2015
Discuss