Stephen Curry's daughter Riley has become somewhat of a Warriors mascot during their NBA reign of terror.
But she's still a little girl. Cavs fan Moe Wahdan learned this the hard way when he directed a homophobic tweet about Riley to Steph's sister Sydel Curry.
Wheels up to Cleveland w. Mama and Granny

— Sydel Curry (@sydelcurry) June 8, 2016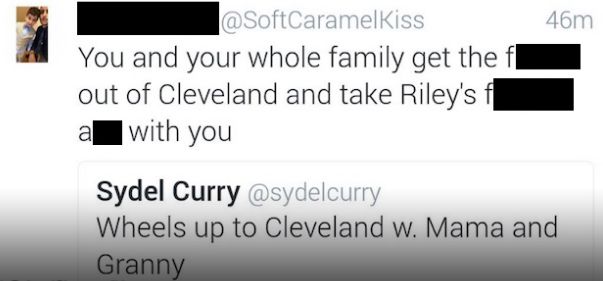 After Sydel objected to Wahdan coming for a 3-year old, this is what he had to say.
Y'all Cali people too soft wtf why y'all let words offend you. Btw tell the unanimous MVP I said good game https://t.co/vyMkFFPUD3 — moe wahdan (@SoftCaramelKiss) June 9, 2016
But it isn't just Cali people who are soft, apparently.
Wahdan's employer, the Cleveland-based Holton-Wise Property Group, decide to fire him for his offensive words.
Apology for the #Cavs fan who was fired for harassing @sydelcurry & @itsRileyCurry @warriorsworld @BroBible pic.twitter.com/rdK5Vn1A4q

— James Wise (@jameswiseHWPG) June 9, 2016
Should Wahdan have lost his job for popping off on Twitter?
Update: Wahdan's making no apologies: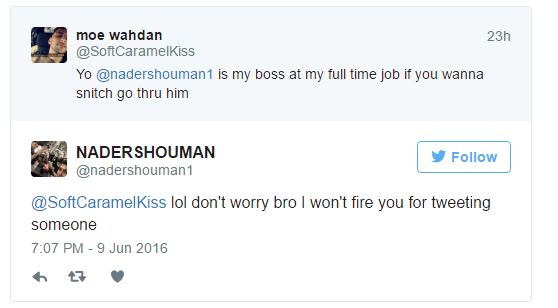 I'm not changing shit for random ass Twitter niggas https://t.co/53DvstE0js

— moe wahdan (@SoftCaramelKiss) June 10, 2016
Golden state fans sensitive bitches for real

— moe wahdan (@SoftCaramelKiss) June 10, 2016
Discuss