50 Cent isn't feeling the Grammy nominations for Best Rap Album, which were announced on Tuesday, Nov. 24.
Today, he posted a now-deleted Instagram message that showed all of the noms and said the Grammys have no clue what's going on in rap. Freddie Gibbs, Royce Da 5'9", D Smoke, Nas and Jay Electronica were nominated
It's possible that 50 is upset that Pop Smoke's Shoot for the Stars, Aim for the Moon album wasn't nominated, an album that he helped executive produce.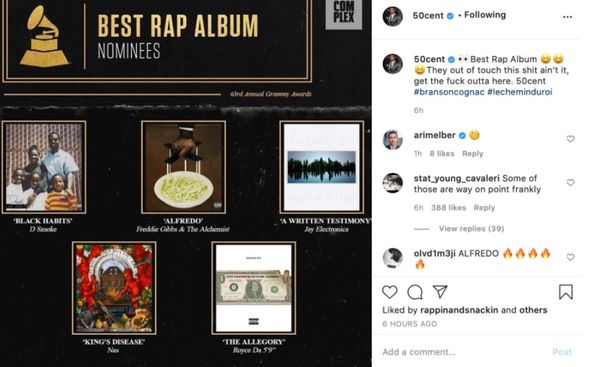 "Best Rap Album. They out of touch this sh*t ain't it, get the f*ck outta here. 50cent #bransoncognac #lecheminduroi," he wrote.
Who do you think should have received a Grammy nod for Best Rap Album?
Discuss