2020 has started out hot, with 50 Cent and French Montana "beefing" on Instagram over Bugattis, fake streams and now, fake jewelry and beatdowns.
In a back and forth war of social media posts, 50 hit the gram early this morning to air out French for being phony.
Fifty posted a video of former Terror Squad OG, Pistol Pete, in which he was saying some pretty humiliating stuff about French.
This isn't the first time Pete has dissed French.
"He used to be scared for years. 'I'm scared Macho Joe is gonna smack me cause I kinda fuck with 50.' He's a paranoid, scared guy, for years."
While the Pistol Pete interview clip Fifty shared was interesting, it wasn't the biggest thing to take away from his post.
In the description of the Instagram post, Fifty hints that Meek Mill's Dreamchasers beat French's a** in the past, but left us guessing of the details.
You know pete ain't got no reason to lie, this is back when Wrench was giving me Khalid's mother on tape sleeping. He switch sides a lot he a sucker,that's why the Dream Chasers beat his ass. 😟oh yeah when you gonna do something about that. LOL I know you get so busy 😆#lecheminduroi #bransoncognac #starzgettheapp #abcforlife
50 went ahead and clowned French in the comments of his own post, laughing that French used to rock fake jewelry, which Pete mentioned in the interview.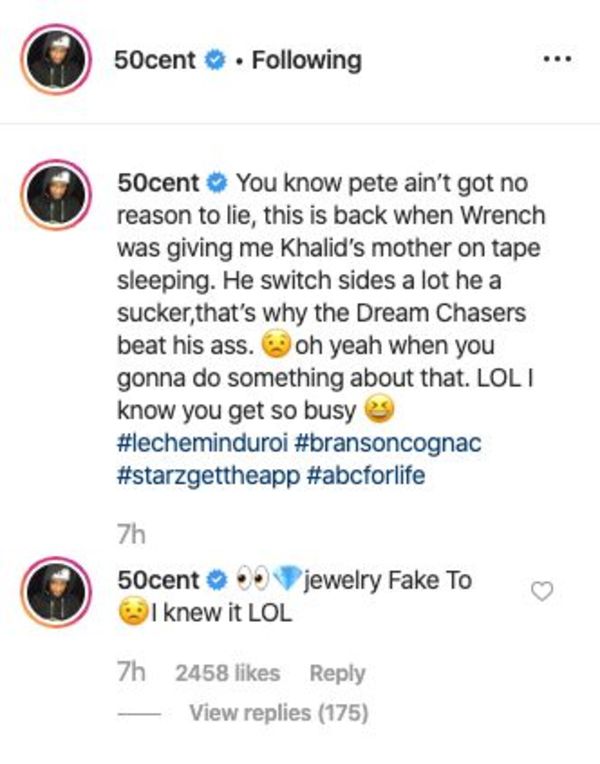 Discuss