Remember Randall Emmett?
A few years back, 50 Cent and Emmett were going back and forth on social media over the $1 million Emmett, a TV and movie producer who worked with Fif on Power, owed him.
During the public discussions, Emmett referred to 50 as Fofty.
He apparently calls him something different in private.
Emmett is being sued for racial discrimination by his former assistant Martin G'Blae, who is Black.
According to G'Blae, Emmett referred to 50 as "this fucking n*ger" after he read what 50 wrote about him in his book Hustle Harder, Hustle Smarter.
He is also accused of using racial slurs when speaking about Cardi B and Quavo and forcing G'Blae, who is Muslim, to do things against his religion. These activities include making him pay for hookers and cocaine and place bets.
50 Cent has reacted to the allegation Emmett referred to him with the n-word.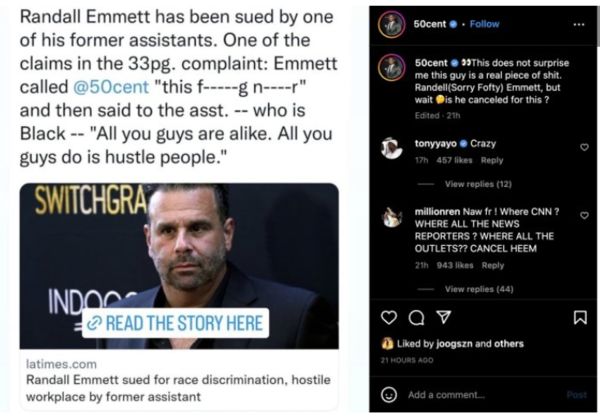 "This does not surprise me this guy is a real piece of sh*t. Randell(Sorry Fofty) Emmett, but wait is he canceled for this," Fif typed.
Emmett's legal team has denied G'Blae's allegations and claim G'Blae is a bitter ex-employee who is has been trying to shake down their client.
Discuss