Updated below with Jay Electronica's new 'The Curse Of Mayweather' attacks on 50 Cent and Kendrick Lamar.
Jay Electronica, who was lit on something, got on Periscope earlier this month and threatened to slap the eyeballs out of 50 Cent's head.
50 Cent is usually quick to react when his name is called, but it took him a while to get back to Electronica. He explained why yesterday.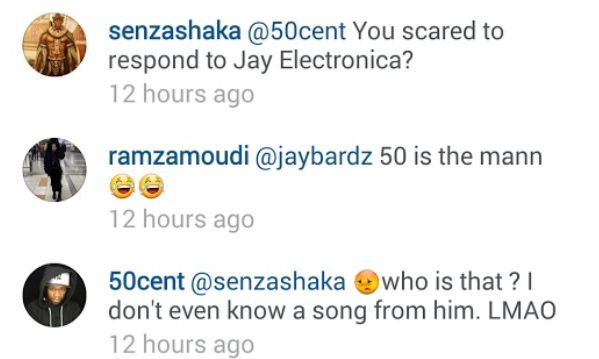 Electronica also shaded Kendrick Lamar during the Periscope session, saying the Grammy nominee wishes he was him.
Kendrick hasn't addressed the comments yet, and we don't think he's going to waste any time doing so.
Do you know any songs from Jay Electronica?
Update: It looks Jay was paying attention to Fif, because he actually dropped some music today.
In '#TBE The Curse Of Mayweather' Jay goes all out on Kendrick, and also addresses 50 again.
"I gave that lil' cockroach life, and he blasted me Niggas made all those memes, and they laughed at me It's World War 3, mothafucka, the catastrophe Watch the throne, my nigga, watch the throne How you gon' compare the king to a gnome? How you gon' compare Jango Fett to the clone? The game can celebrate today cause daddy's home "He's got eleven Grammy nominations, y'all not equal" Maaaan fuck these white people! My grandma died at 82, scrubbin' floors And niggas still runnin' 'round beggin' for awards Is he Jedi or is he Sith? Is he Neo in the matrix or Mr. Smith? I might be on Periscope gettin' pissed Talkin' reckless, contemplatin' all out war with Fif'
Kendrick has 11 Grammy nods, if there was any doubt whom Jay was speaking of.
He continued his war with 50 on Twitter:
aint nobody safe no more. Either you with me or against me.

— سيف الله (@JayElectronica) February 15, 2016
and @50cent don't lie to the people. you know me. don't make me expose you as a coward. — سيف الله (@JayElectronica) February 15, 2016
to all the blogs that ran the 50 don't know JE story.. ask him why he lied.. https://t.co/DA7KJST40K

— سيف الله (@JayElectronica) February 15, 2016
Discuss